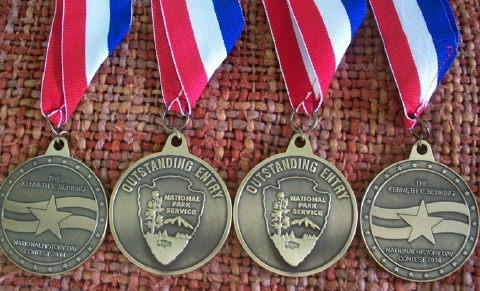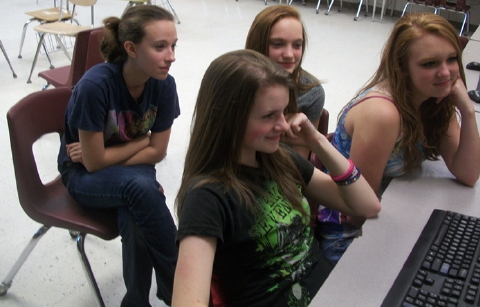 Just days before leaving for the national competition, students continued their comprehensive research, combined with an exceptional performance at the University of Maryland earned them the "Outstanding Entry Award" for West Virginia. Sitting left to right is Destiny Wager, Kaitlyn Toney, Destiney Murphy and Shaylah Wilson
By Dan Cosgrove
History Coach
The National History Day Competition held an award ceremony on Thursday at the University of Maryland's Basketball Arena, the Comcast Center. With thousands in attendance and video of the event being streamed live (webcast) through the History Channel, awards were handed out to deserving students.
In addition to the top 3 awards for each category (documentary, performance, exhibit, website, and paper), Outstanding Entry Awards are given to the top junior and senior projects from each state.
Calhoun County came away with the West Virginia's junior division (middle school) award with Destiney Murphy, Kaitlyn Toney, Destiny Wager, and Shaylah Wilson taking top honors with their group performance, "The Tragic Life of Bridget Bishop."
Outstanding Entry Awards are sponsored by the National Park Service. The winning entries "exemplify quality work, well-rounded research and great student achievement."