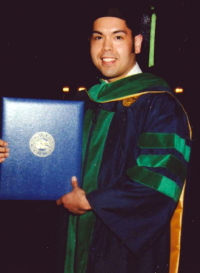 Brother and sister James and Marlena Kingsbury
James Michael Kingsbury II graduated on May 11 from West Virginia University School of Medicine. He is the son of James, Sr. and Lena Kingsbury of Elkins. Dr. Kingsbury will spend the next year in General Surgery working at Montefiore Medical Center, which is affiliated with the Albert Einstein School of Medicine in New York City. He plans to specialize in Intervention Radiology.
Marlena Jaimie Kingsbury also graduated on May 11th from West Virginia University. She received a Bachelor of Science degree in Applied and Environmental Microbiology with a minor in Spanish language.
She is the daughter of James, Sr. and Lena Kingsbury of Elkins and the granddaughter of Edna and the late Eugene Kingsbury of Grantsville. Great grandparents are the late Cleo and the Hazel Kingsbury, the late Daniel and Lena Duskey, and the late Dewey and Elvie Naylor.
Marlena will pursue a Master of Arts degree in Teaching English to Speakers of other Languages, along with a minor in Arabic language, in Fall 2014. She also received a graduate teaching assistantship for the 2014-2015 school year, during which she will instruct introductory level writing and vocabulary courses in the Intensive English program at WVU.