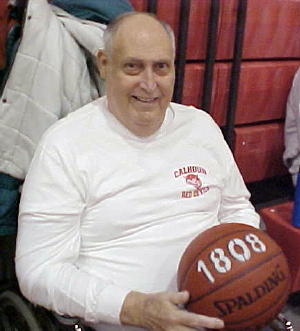 Robert "Tank" Davis reveling over his grandson Marcus
Davis, breaking the Calhoun High basketball scoring
record of his son, CHS athletic director Tim Davis
Robert "Tank" Davis, 76, a longtime Grantsville resident, died Saturday, after suffering and surviving a number of health crises in recent years.
He likely earned his nickname "Tank" while playing award winning Calhoun High School football for coach Wayne Underwood in the 1950s.
He was a 1956 graduate of Calhoun County High School where he excelled in both football and basketball and continued his involvement with athletics by coaching several little league basketball teams and operating the game clocks at CCHS football and basketball games for more than three decades.
He retired from Consolidated Natural Gas with 37 ½ years of service.
Funeral services will be held Wednesday, May 21, 2014, 1:00 p.m. at the Knotts Memorial United Methodist Church with Rev. John Lowther officiating. Interment will follow in the Bethlehem Cemetery. Friends may call at the Stump Funeral Home in Grantsville Tuesday from 6:00-8:00 p.m. and from 12:00-1:00 p.m. at Knotts Memorial United Methodist Church in Grantsville prior to the service.
Memorial donations may be made to Knotts Memorial United Methodist Church, P. O. Box 617 Grantsville, WV 26147.
See complete obituary Robert "Tank" Davis
See "TANK" IS BACK IN POSITION - Recovering From Illness, Cheering For The Davis Boys