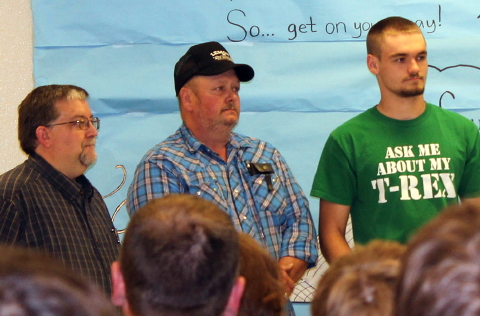 Zachary Church (right) received the Micheal P. Whipkey II Memorial Automotive Scholarship. Also pictured Jim Snyder (left) Auto Instructor and Mikey Whipkey (center) presenter and father of Micheal P. Whipkey II
Kenny Dawson (right) received the Melissa Oshoway Memorial Criminal Justice Scholarship. Also pictured (left-right) Dottie Nemitz, John and Sue Oshoway, presenters
Seniors at the Calhoun-Gilmer Career Center were honored in the annual Senior Day Award Ceremony on Thursday, May 8.
Each senior was recognized with their class and the following students were given special awards: Zach Church received the Micheal P. Whipkey II Memorial Automotive Scholarship award, Kenny Dawson received the Melissa Oshoway Memorial Criminal Justice Scholarship and Jenny Edman, Jeffrey Brittle and Adam Abel were the Outstanding Students of the Year and Adam Abel received the Earl J. Gainer Technical Student of the Year.
The Career Center also recognized Mrs. Patty Cain the ALC 1 Teacher for her outstanding and dedicated service to her students and the Career Center. Mrs. Cain is retiring this year and she will be greatly missed.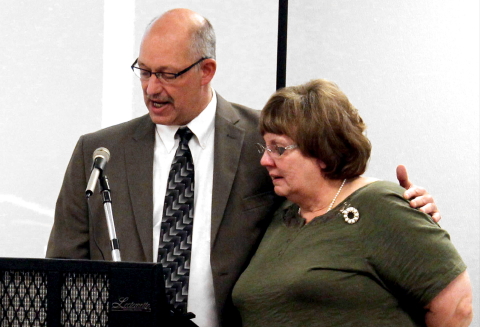 Retiring teacher Patty Cain was recognized for her outstanding service and dedication, pictured with Bryan Sterns CGCC Director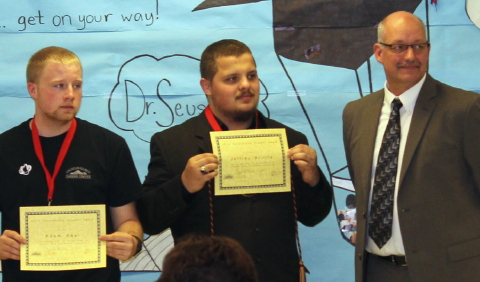 Outstanding Students, left to right, Adam Abel and Jeffrey Brittle, with Director Bryan Sterns. Not pictured, Jenny Edman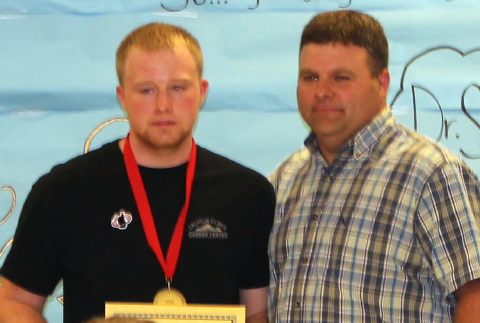 The Earl J. Gainer Technical Student of the Year was Adam Abel (left) with Paul Parsons (right) Building Construction Instructor