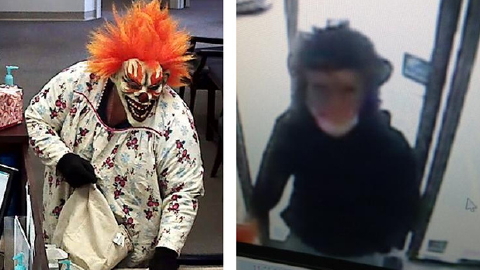 HARDY CO. BANK HEIST - A clown and monkey held up a Hardy Co. Bank at Baker, described as a man and woman in costumes.
The man was wearing a clown mask and suit and the woman was wearing a a brown monkey mask, when they entered the Capon Valley Bank Wednesday.
Police said that the woman had a gun and demanded money.
The two then took off in a car stolen from a dealership in Virginia.
DEPUTY SHOOTS MASON MAN - A Mason County man was shot in the leg during a deputy-involved shooting Friday in the Gallipolis Ferry area.
He was taken to hospital with non-life-threatening injuries to his leg.
State Police say the man refused to get out of his car. When he finally did, they say he pulled out some sort of a weapon. That's when the man was shot by a Mason County Sheriff's Deputy.
West Virginia State Police are handling the investigation.
The Mason County Sheriff said an agency protocol will be followed, but he did not elaborate about that would involve. He confirmed one of his deputies was involved in the shooting.
KANAWHA ROBBERY AND KIDNAPPING - Kanawha sheriff's deputies said they are investigating the report of a robbery and kidnapping from the parking lot area of the 7-Eleven near St. Albans.
The manager reportedly he was taking the daytime deposit to a bank Friday. When he got into his car, he was confronted by a male wearing a ski mask.
Deputies said the manager said the suspect had a knife and forced him to drive to an isolated area along the Coal River, when the suspect punched the manager and he fled on foot.