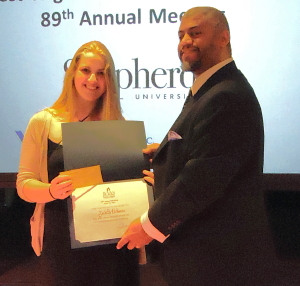 GSC student Judith Urbanic receives her award from
West Virginia Academy of Science President Jason Best
GSC psychology junior Judith Urbanic received the prestigious "Best Undergraduate Oral Presentation" at the 89th annual meeting of the West Virginia Academy of Science held at Shepherd University.
Urbanic's presentation was titled "To Bee or Not to Bee: That is the depression." She presented three experiments that she performed under the guidance of GSC Department of Social Science Assistant Professor of Psychology Dr. Alan Daniel who also attended the event.
"My experiments showed ways you can use bees to model depression; two of them demonstrated ways you can protect against depression, and the third revealed for the first time that bee depression-like behaviors share the same neurochemistry as depression in mammals, including humans," said Urbanic, who resides in Chloe (Calhoun County), West Virginia.
"For months prior to the event, students and faculty engaged in scientific research on campus and met every Wednesday evening for several hours, with the goal of strengthening student research and presentation skills. Many of the students and faculty that attended were supported by the NASA West Virginia Space Grant Consortium (WVSGC), the mission of which is to further science, mathematics, technology education and aerospace science," Daniel stated.
"Dr. Kevin Evans has done a fantastic job of building and organizing the Wednesday group, and as it grows, so does GSC's presence and reputation in the regional scientific community. The more we attend events like WVAS, the more we show to the region that our programs are capable of generating top-class scientific research, and preparing undergraduate students for careers in STEM disciplines. Our students were more prepared than some of the other WVAS graduate presenters," added Daniel.
Urbanic was in good company at the WVAS meeting, with a total of 12 students and six faculty members from three GSC departments in attendance. In all, GSC was among the top presenting institutions even though Glenville State is substantially smaller than many of the other participating colleges and universities.
In addition to Urbanic's award-winning report, senior biology major Emily Ramezan of Glenville (Gilmer County) presented 'The effects of water temperature on early response gene, c-Jun, in the sea anemone Aiptasia pallida' and was advised by Department of Science and Mathematics Associate Professor of Biology Dr. Sara Sawyer. Senior biology and chemistry major Randy Smith of Grantsville (Calhoun County) presented 'Determining if AHR regulates histone 3 methylation in breast cancer cells using immunoblot analysis' and was advised by Dr. Gary Morris.
For more information about GSC's participation in the West Virginia Academy of Science, contact Daniel at Alan.Daniel@glenville.edu or call (304)462-6275.