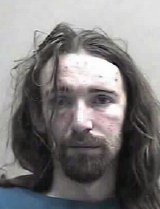 A Gilmer County man has received multiple charges and is in Central Regional Jail.

Cazjun Aames Spencer, 31, has been charged with assault and battery on a police officer, with another obstructing charge, according to Central Regional Jail.

Spencer is also charged with possession of a controlled substance, no inspection sticker/no insurance, improper or expired registration.

The charges are associated with Spencer allegedly hitting an officer and smoking meth.

Spencer was driving near Coxs Mills Road when an officer tried to pull him over. The man then tried to lose the officer, but got stuck in a ditch on a back road.

When the officer caught up to Spencer, he found multiple glass pipes with meth residue in them and Spencer reportedly hit the officer in his face. Isaiah Todd Murphy, 24, of Clay County, had been charged with B&E without breaking, carrying a concealed weapon without permit and possession of a controlled substance. Bond was set at $7,500.

Clay officers said Murphy flunked a drug test, and was in a state of overdose and had to be taken to a hospital to prevent possible death, before he was incarcerated.