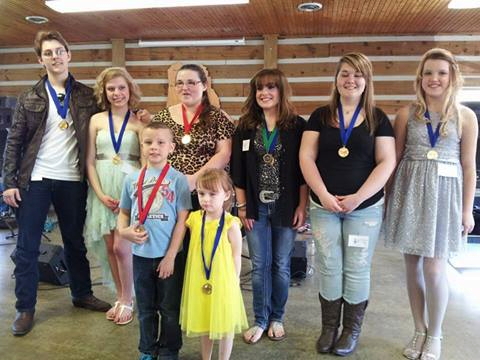 Front - Isaac Hackney and Madison Parker; Back (L-R)
Kurt Shultis, Kami Shultis, Kristyn Conley, Chelsea Hicks,
Aeriel Marcum, Claudia Marie (Photo by Melissa Conley)
WV Kids on First hosted a talent competition in Spencer on April 12th and qualified 9 acts for the state competition in June.
Talent competition regional winners moving on to the state level in Charleston Ages 4-8 - Vocal Madison Parker, first place and Issac Hackney, second. Dance Isaac Hackney, second place.
Ages 9-12 - Vocal Claudia Marie, first place.
Ages 13-16 - Vocal Aeriel Marcum, first place. Instrumental Kurt Shultis, first. Group Vocal Kurt and Kami Shultis, first.
Ages 17-21 - Vocal Chelsea Hicks, first place and Kristyn Conley, second.
In order to qualify at the state level, students must compete and place in respective categories. Many of these students have already competed at other regional and local competitions, earning them the right to compete in additional categories at the state level.
The WV State Performing Arts Competition will be held at the Cultural Center in Charleston, WV on June 7. There will be final regional competition that morning for those that would like the opportunity to qualify. Open to students 4-21 in the categories of Vocal, Dance, Instrumental and Drama.
Contact Laurie Shultis 304-927-8032 for information.