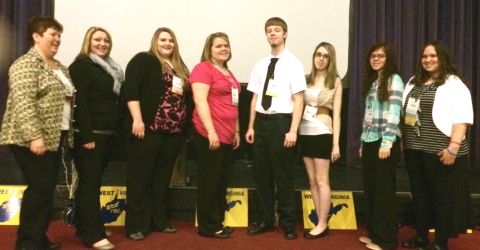 (L-R) Sarah Dennison Advisor, Kyleigh Hosey,
Chelsea Oiler, Brittney Whytsell, Justin Mowrey,
Amber Frymier, Nicole Young and Jenny Edman
Submitted by Sarah Dennison
Students from the Calhoun-Gilmer Career Center Business Class attended the Future Business Leaders of America-Phi Beta Lambda State Leadership Conference in Charleston March 31st and April 1st.
Students participated in various competitions, workshops, and other fun activities. FBLA/PBL is a national program designed to encourage students to become involved in their school and their community. FBLA/PBL's Mission statement says, "Our mission is to bring business and education together in a positive working relationship through innovative leadership and career development programs", and that's what they do at these conferences.
Chad Foster, a two time best-selling author of books called, Teenagers Preparing for the Real World and Financial Literacy for Teens, was the key-note speaker at the conference. With his interesting wit and engaging style of speaking, Chad kept everyone entertained and students came away saying they really enjoyed listening to his talk about how to be successful in life.
Students also got to participate in several fun activities at the Civic Center including riding a mechanical bull, jousting and running through an inflatable obstacle course provided by the National Guard.
Students left with two first place ribbons.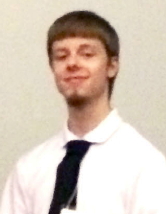 Justin Mowrey (right) a post-secondary student, at C-GCC won first place in Computer Concepts and Networking Concepts. Justin is now eligible to attend the FBLA/PBL National Leadership Conference in Nashville, TN where he has the opportunity to compete against students from all over the country. He is the son of Ronald and Norma Mowrey of Arnoldsburg, WV.
The students would like to thank all those who have provided help for them to attend this conference in anyway and a special thanks to Tina Whytsell for helping provide transportation. "Without people who are willing to help by buying fundraiser items or donating money or time, we wouldn't be able to attend these fantastic conferences."