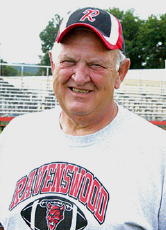 Former Calhouner and 46-year career coach at Ravenswood High School Dick Sturm is helping head fundraising efforts to improve the school's football stadium.

Sturm lead Ravenswood to the Class AA playoffs eight times.

See FORMER CALHOUNER DICK STURM ENDS ILLUSTRIOUS COACHING CAREER

Sturm says he has coached 2,300 students over the years and figures if each former player could chip in a few dollars on the stadium project that the amount could quickly add up to a successful fund drive.

Sturm said failure is not an option. "We want something enduring for the next 50 or 60 years. We don't want a band aid," he said.

Throughout the years, students have been good athletes as well as community minded, Sturm said.

"There is the right way, the wrong way and the Red Devil way," Sturm said. "It will happen. Pride and tradition at Ravenswood High School are deep rooted."