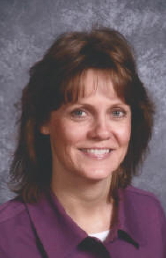 Gilmer County High School's Leigh Kinder Receives Arch Coal Teacher Achievement Award.

A simple, but powerful algebraic equation led Leigh Kinder to her life's work. "My story began when girl 'X' met boy 'Y' and fell in love," Kinder said. "X and Y got married and started making conjectures as to what the future would hold."

Y was already a teacher while X was just beginning her college career. When all the variables were added together, the answer to the equation was that that X, Leigh Kinder, also became a teacher.

"Teaching has been a very rewarding experience for me," Kinder continued. "To grow beautiful flowers, one must plant the seeds in nourishing soil, water and tend to the seedlings, give them the warmth of the sunshine, and watch them grow. The most important thing I do for my students is not fill their heads with my knowledge, but provide them with time and activities in which to explore. Creative activities incorporated into the curriculum engage them in critical thinking and teamwork."

As a result of Kinder's ability to nourish her students, she received statewide recognition today. She was one of only 12 teachers to receive a 2014 Arch Coal Teacher Achievement Award. John W. Eaves, Arch Coal president and chief executive officer, made the announcement during a ceremony at the Clay Center in Charleston.

Kinder teaches mathematics to seventh graders at Gilmer County High School in Glenville. She has 21 years of teaching experience. "My responsibility is to facilitate the learning of my students," she said. "I do not want them to memorize concepts, but to understand where the ideas come from and how they work. Because of the different learning styles of each student, I must help them become problem solvers and teach them to explore new concepts verbally, numerically, analytically, graphically and through real-life examples." "Leigh Kinder is an exceptional seventh-grade math teacher who demonstrates a commitment to her students and enthusiasm in her instruction," said Nasia P. Butcher, principal at Gilmer County High School.

"After 21 years of teaching, she is still excited to come to school every morning. She sets high expectations for all students, and she works with them to help them achieve mastery. Students know that they can count on her for assistance whenever needed, and she is eager to help them."

Kinder holds a Bachelor of Arts degree in elementary education with specializations in early childhood and mathematics from Glenville State College and a Master of Arts degree in early intervention special education from West Virginia University in Morgantown.

She also has 45 hours of additional college credits. Kinder has attended the Teacher Leadership Institute, INSTEP training and the Carnegie Learning Institute for Mathematics in Morgantown.

She was twice nominated as Teacher of the Year by her peers and represented Gilmer County High School as RESA VII Teacher of the Year.

Kinder is active in her church as a member of the worship team, director of the Vacation Bible School, an AWANA Youth Leader and a Sunday School teacher.

She has raised money for Relay for Life, Cancer Society and St. Jude's Research Center. She also has participated in local community efforts such as Jared Boxes, Operation Christmas Child, and Teddy Bears for Tots, and assists the school's National Honor Society in a number of service projects.

Teachers are nominated by the public, and a blue-ribbon panel of past awards recipients selects the annual winners.

Each Teacher Achievement Awards recipient is presented with a distinctive trophy, a classroom plaque and a $3,500 personal cash award. The West Virginia Foundation for the Improvement of Education, a foundation of WVEA, also presents a $1,000 cash award to each recipient's school for use with at-risk students.

The Teacher Achievement Awards are underwritten by the Arch Coal Foundation and are supported in program promotion by the West Virginia Department of Education, the WVEA and the West Virginia Library Commission.