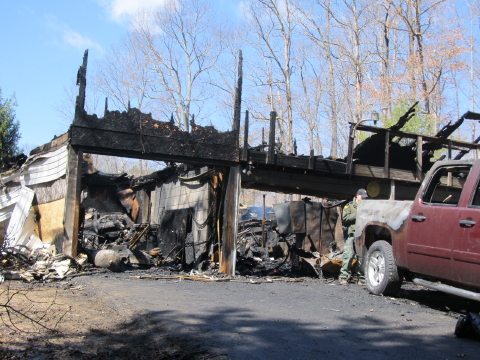 UPDATE 1:30 PM - Responders have recovered three bodies from the debris of a Saturday night Leading Creek fire, with the WV Fire Marshal and investigators at the scene Sunday, about one-quarter mile off State Rt. 16.
Firemen, after pouring a huge amount of water on the fire, began sifting through the debris Sunday morning.
Neighbors say they believe three generations of a family perished in the tragedy, an elderly woman in her 90s, her son, in his 60s and and his invalid daughter, all who were living in the house, and are the likely victims.
A man returning from work Saturday spotted the blaze, with the house fully engulfed.
The names of the victims will not be released until Monday.
UPDATE 10:30 AM - Three deceased bodies have been confirmed found in the debris at a fire on leading Creek Road.
Firefighters are still on the scene at 10:30 a.m. Sunday morning at a house fire reported by a passerby on Leading Creek Rd. near the Ritchie County line at approximately 10:07 p.m. Saturday.
The dwelling was "on the ground" when firefighters arrived on the scene minutes later.
Grantsville, Smithville, and Arnoldsburg fire departments battled the blaze, where firefighters confirmed three bodies found just after 10 a.m. Sunday morning.
Calhoun County Medical Examiner and State Fire Marshals have been called to the scene to investigate.
The names of victims have not been released.