GLENVILLE, WV - Glenville State College alumnus John Bird has received the Graduate Forestry Technician Achievement Award of the Council of Eastern Forestry Technician Schools. The presentation was recently made by GSC Land Resources Professor Emeritus Rick Sypolt.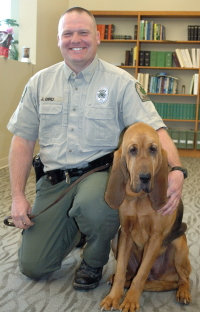 John Bird (left) and his arson-investigating bloodhound sidekick "Jessup"
Bird received the honor due to his extraordinary work in reducing arson in West Virginia especially in southern West Virginia."This truly is one of the most gratifying moments of my profession returning here where my career started—to receive this award," said Bird.
The annual accolade is given to someone who has made significant contributions to the field of forestry and to technical education. The award has been bestowed since 1995. GSC has had eight winners out of fifty-five overall and has garnered nearly fifteen percent of the total awards given. Bird is the first from the school's alumni to be so-named since 2007.
"We at Glenville State College are very proud of Bird's many accomplishments. His arson investigations have contributed greatly to the development of our state and to improving its image in California, Wyoming, Georgia, Texas, and Arizona, to name but a few. Also, his training of bloodhound investigation units in other states has brought positive recognition to both West Virginia and GSC," said Sypolt.
Standing faithfully by Bird's side as he received his certificate was Jessup, the second bloodhound he's trained and donated to the state. When Bird began investigating arson cases in 1998, Mingo County was enduring up to 80 arson cases a year. That number was down to three last year thanks to his efforts.
"I'm awfully proud of Jessup for the work she does in helping me apprehend arsonists who commit cowardly acts generally done in remote areas usually accessible only with four-wheelers. Prevention education has also put a big dent in arson. Jessup makes quite an impression on young people when we visit schools. Ideally, of course, I'd like to put both of us out of business,"Bird stated.
Bird graduated from GSC in 1997 with an Associate's of Science Degree in Criminal Justice and Forest Technology. He also completed the GSC Regents Bachelor of Arts Degree Program in 2012. Bird was an instructor for the West Virginia Police Canine Association from 2011 until 2012, and he continues to be employed by the West Virginia Division of Forestry's Investigation Agency.
For more information about Bird and his award as well as the GSC Land Resources Department and Forestry Program, contact Sypolt at Charles.Sypolt@glenville.edu or call (304)462-6371.