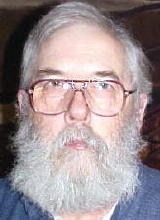 By Alvin Engelke
alvinengelke@hotmail.com

Rev. Keith Belt filled his regular appointment at the Burning Springs M. E. church.

Donna Wilson who had worked at Ray Holbert's store in Brooksville for 28 1/2 years retired. A party with cake, ice cream and punch was served to folks who stopped by to wish her the best in retirement. She was given a watch and a quilt as well.

Tragedy hit the Mike "Moose" Cunningham family when a high school senior, high on pills, hit their car in Grantsville, killing the wife and seriously injuring Moose and their son. Mike is the son of Harold & Vera Jo Cunningham, both from the Creston area. Those who insist "Oh drugs aren't a problem, victimless crime, etc" might try to explain why there are victims in this case. Tobacco is to be banned everywhere while drugs are promoted and, at the same time, there is a problem finding workers who can pass "the tinkle test". At the same time efforts to make drug testing mandatory for welfare benefits are described as mean and cruel.

With 92 million adults not working and the highest food stamp participation ever, Madame Hillary said Obamacare was good since single women/unwed mothers wouldn't have to work but could live on the dole. Obviously the intent of all of this is to create, foster and grow a permanent welfare class as a lifestyle choice. Others would note that such as been the case since the 1930s when the DPA (Department of Public Assistance) sent out workers in area counties and instructed them to "Sign up every house, whether they needed it or not." Now high school guidance counselors are to help seniors sign up for SSI (a permanent federal welfare program). A rumor program has been started on Hillary and some wonder who is the director thereof. It was noted that the Big Eared One said he wouldn't be leaving Washington after his term was over and then travelers in that area have seen "Michelle 2016" bumper stickers. She and the Iranian born Valerie Jarrett are generally considered to be the powers behind the throne.

The Big Eared One's stoolie Hagel announced that the U. S. military would be cut back to 1940 levels with the "savings" being used for social programs. France, under a socialist government, did the same thing during the 1930s and we all know how all that worked out. Likely Hitler didn't worry too much whether the French welfare recipients received their checks after the invasion. When Mao Tse Tung (who several in the White House adore) took over China the beggars suddenly disappeared & no one dared to ask questions.

While America is cutting back the Iranians sent warships to our borders, Russia sent a destroyer to Cuba and plans bases in South & Central America, China is building a Blue Water Navy and the Muslim terrorists have training grounds in America and in various countries in Africa & Asia. Hagel said we would no longer lead in military or space matters which means, on the long haul that we will be ruled by others. It was noted that the little fiddler gave away the Panama Canal which is now controlled by the Chicoms (Hutchinson Whampoa). Now the Russians have invaded Ukraine with impunity knowing that no one will do anything. Gov. Palin was mocked for even suggesting the possibility some while back.

Nathan Belt is home after a protracted hospital stay and is on the mend.

The Tuesday 6" snow caused the Creston hill on W. Va. 5 to be the worst for travel in years. Then it was learned that the road garage didn't send out a truck until after the regular day shift folks showed up. Similar stories were reported from other parts of the state which would mean that Earl Ray must have ordered that snow and ice removal efforts are to be cut back. Speaking of Earl Ray, the puppy man, his brother got caught by the feds. New Jersey ran out of salt and more was on the way until the Federal Dept. of Homeland Security stepped in and stopped the shipment supposedly because the hauler had violated the Jones Act. Creston area producers have lots of brine that does an excellent job melting ice & snow and the price is right. Other producers in Roane, Ritchie, Calhoun & Wood Counties have even more.

The weather got warm and bugs were seen flying around but an ice storm, freezing rain, sleet and snow are now in the report followed by zero temperatures yet again.

William Paul George, age 77, passed away in Parkersburg. He was a former resident of the Spring Creek section. He was active the Farm Bureau and other civic organizations.

The education folks apparently are upset that the peasants should complain & object to the national Common Core curriculum and that parents didn't want their children to be wards of the state. As was "advertised" the information gathered by the schools will be turned over to Microsoft, one of the promoters of the "new way".

Ed Gainer was attending to business in the area. He noted that because of the chemical spill from the Freedom Industries tank farm down very near the Mouth of the Elk there may be new impossible standards for oil tanks. Earl Ray said "a thousand or so" tanks were to be found state wide -- apparently he forgot oil tanks of which there are few in Logan County. It was also learned that the DEP issued permits to companies that were not legal in the state of West Virginia because they had been administratively dissolved in 2005.

The EPA has now announced that they are going after folks that heat with wood. To start with there are new regulations on stoves but, no doubt, it won't be long before they go after chimneys and camp fires. While they are spending money "fighting global warming" extreme cold continues across most of the nation. Albert Gore Jr., the high priest of the global warming religion announced that Kansas would have a dust bowl.

The IRS noted that everyone must buy an Obamacare plan or something approved by the federales otherwise they will levy a tax, low for the first year or so and then 1% or so of income which is called "a shared responsibility payment".

Venture capital groups are getting actively involved in the obtaining of leases for the wet Marcellus and Utica. One group sold their Bakken holdings be cause "they were only getting a 40% return". A spokesperson said we'd be stupid not to go where we can get a 100% return on our money. Former Eagle Ford operators have likewise moved to the area to cash in. At the same time local residents and mineral owners are being told you are not entitled to much even though the local fields are the best in the nation and one of the largest in the world.

It was reported that Magnum Hunter is contemplating laying either a 48" or 60" line on one of the old Eureka Pipe Line rights-of-way that they own. Magnum Hunter acquired the former Triad assets owned by the late Kean Weaver.

Nancy Engelke was consulting with her physician.

The price of local Pennsylvania grade crude rose to $101.59/bbl. with drip fetching $82.48, Marcellus & Utica light $91.03 and medium $100.59/bbl. Gas sold locally brought just over $3 while the market elsewhere fell from $6 to not too far under $5/mmbtu or dekatherm.

The views and opinions expressed herein are those of the author and do not necessarily reflect the views of the Hur Herald.