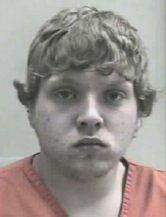 UPDATE 2/28 7:30 A.M. - Eighteen-year-old Randall Luke Baker (left), according to Grantsville police chief Andy Walker, was spotted speeding through the town and passing a car on a double yellow line, at which time the officer turned around to follow the vehicle, with blue lights on.

"He was unaware I was after him when he crashed into an on-coming vehicle," said Walker, Baker was traveling south on Rt. 16 at a high rate of speed.

Baker lost control of his vehicle and crashed into a small, compact car at the Rt. 16 south city limits, killing a Mt. Zion woman and injuring two others.

Baker is in Central Regional Jail, charged with DUI causing death with reckless disregard, among other charges. His bond is set at $40,000.

Dead is Tammy Cunningham, in her mid-forties.

Her husband Mike Cunningham, also in his mid-forties, was life-flighted to Charleston Area Medical Center, where family members say he is in serious but stable condition.

Family members said Cunningham underwent surgery Friday morning for fractures to the pelvis, also suffering from fractured ribs and other injuries.

The Cunningham's son, Mike, Jr., a Calhoun-Gilmer Career Center student, was transferred by ambulance from Minnie Hamilton Health System in Grantsville to CAMC Thursday night, with the family reporting Friday morning he was stable and mobile in his room.

Tammy Cunningham is the mother of four daughters and a son.

UPDATE 7:45 PM - A Mt. Zion, Calhoun County woman has died from injuries received when a car appeared to be fleeing from the Grantsville Police Department crashed into her vehicle Thursday evening.

The name of the woman, about 45-years-old, is being withheld.

Her husband, also about 45, was life-flighted to a medical center following the crash.

The couple's high school age son was also in the vehicle, and he has reportedly been admitted to Minnie Hamilton Health System.

The name of the driver has not been confirmed. He was reportedly going at a high rate of speed when the collision happened, and was taken to a Grantsville magistrate's office Thursday night.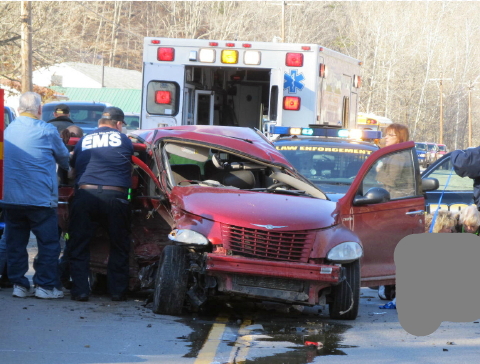 Responders work to extract victims from Grantsville collision
THUR. 4:30 PM -A Mt. Zion couple were serious to critically injured when a driver of a car crashed into their vehicle at Grantsville Rt. 16 south of the city limits in front of Baker's Mart convenience store.
Responders went to the scene at 3:23 p.m. and the Grantsville VFD had to use extradition equipment to remove the victims.
A large tanker truck at Baker's Mart was in close proximity to the accident.
The driver of the vehicle was taken into custody by the police, and appeared to not be seriously injured.
Both victims were taken to Minnie Hamilton Health System by MHHS ambulances, they were being life-flighted by two choppers to a medical center. A third passenger, the son of the couple, was reportedly taken to Minnie Hamilton with less serious injuries.
Sources at the scene reported the driver of a speeding car was headed south, with the Grantsville police chief following, the victims were headed north.
A Mt. Zion couple extracted from car, with serious injuries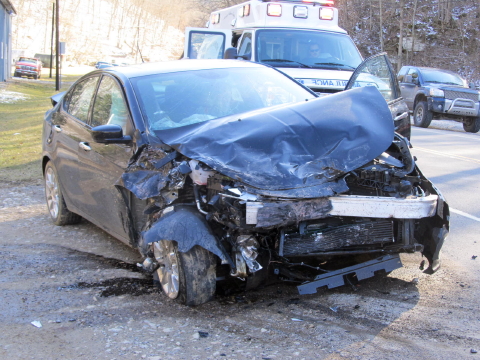 Car reportedly fleeing from police officer
Details of the situation have not yet been made available.
The Calhoun County Sheriffs Department, the State Police and the Grantsville Police responded to the incident.
Traffic was backed up at least a half-mile on each side of the wreck for about an hour, while police officers detailed the nature of the wreck.