GLENVILLE, WV - Glenville State College will be the site of a presentation about climate change on Thursday, March 6th at 6:00 p.m. in the Heflin Administration Building Presidents Auditorium.

The presentation, Climate Change - Past, Present, and Future, will be delivered by University of Dayton Physics Professor Dr. Bob Brecha.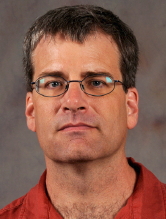 According to Brecha (left) the scientific understanding of Earth's systems has increased over the past two centuries in step with advances in chemistry, geology, biology, and physics. Although debates among scientists about the details of the Earth's climate still take place, the basic outlines of the driving forces of climate change have been understood for more than a century. In his presentation, some of the main physical principles of the climate will be introduced. Brecha will also make connections to current changes, mostly driven by emission of carbon dioxide from fossil fuel combustion.
"Understanding past climate variations and measuring current climate changes and impacts leads naturally to questions about what is still to come. Some projections from the cloudy crystal ball of the future will be presented, with an emphasis on the control we humans still have on those developments that will be experienced mainly by our children and grandchildren," said Brecha.
"The ongoing discussion and debate about global warming hits close to home in West Virginia because of the state's economic dependence on fossil fuels. GSC students need to learn as much as they can on the topic so that they can make knowledge-based decisions about sustainability in their day-to-day lives. We hope that Dr. Brecha's presentation on climate change will help students and the community at large understand the impact climate change has on all of our lives," said Glenville State College Department of Science and Mathematics Chair and Assistant Professor of Biology Dr. Gary Morris.
"I was fortunate to have had the opportunity to briefly study global climate change and discuss sustainability issues under the tutelage of Dr. Brecha this past summer," said GSC Professor of Physical Science Dr. Joe Evans. "This presentation on global climate change and sustainability issues will initiate a discussion which is long overdue in all academic settings."
Dr. Brecha is a faculty member in the Renewable and Clean Energy Program and coordinator of the Sustainability, Energy, and Environment program at the University of Dayton. Since 2006, he has been a regular visiting scientist at the Potsdam Institute for Climate Impact Research including a recent sabbatical partially sponsored by the Fulbright Commission. His research focuses on building energy efficiency, climate change mitigation strategies, fossil-fuel resource limits, and energy needs for sustainable development.
For more information on the seminar, contact Debbie Starcher-Johnson at Deb.Starcher-Johnson@glenville.edu or (304)462-6310.