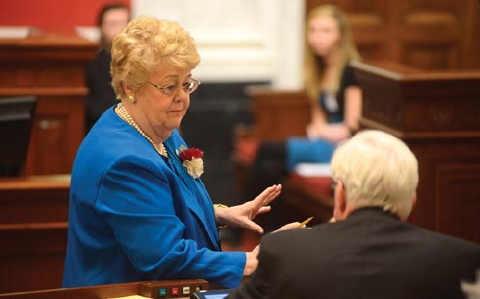 Photo by Martin Valent, W.Va. Legislative Photography
Working women: West Virginia Senate's only woman says she'd rather be lone female than lone republican www.statejournal.com
She is a minority in the West Virginia Senate, but it's not only because of her party affiliation.
Sen. Donna Boley, R-Pleasants, is the only woman serving in the Senate, but she says she doesn't mind.
"I have had opposition, but not in the primary, always in the general (election), until 2012," Boley said.
In 2012, Frank Deem was vying for a seat in the Senate, to represent District 3 with Boley and Sen. David Nohe, R-Wood. However, because Deem would've been representing Wood County with Nohe, it was ruled unconstitutional for him to run. Boley remained unopposed.
The retired businesswoman was actually first appointed to her position in the Senate by then-Gov. Arch Moore in May 1985.
After replacing Sam White, who left the Senate to be a circuit judge, Boley ran in the next election in 1986.
"There's never been any question about running," Boley said. "I just always enjoyed it — and my family has always supported me."
Boley worked as a secretary and also became an accounting supervisor for Queue Systems in Wood County, a company that made incubators, before becoming a state senator.
With her husband, Jack, holding down the fort in Pleasants County, Boley said she will run as long as she feels healthy enough to travel alone.
Boley also has two children, Kari and Brian, as well as five grandchildren.
While serving as the Senate minority leader from 1991 to 1996, Boley said she was concerned with the debt the state was acquiring — something she credits to former Gov. Gaston Caperton coming up with "authorities."
The bill Boley and others came up with to try to decrease the debt required the state to keep track of its own debt by submitting a report semiannually that would come from the treasurer's office and include the bonds issued and the agencies who issued those bonds.
As for currently issues, Boley says she is strongly opposed to the Common Core legislation. She said the legislation would put the federal government in charge of education for all 50 states, and that's not something she agrees with.
"Each state should be responsible for its own education system," she said.
As far as being the only woman in the Senate, Boley said she would rather be the only woman than the only Republican. "They're gentlemen," she said of her fellow senators. "I probably give them more trouble than I should."