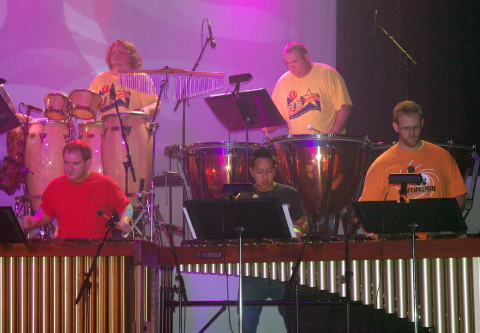 Musicians from the 2013 Glenville
State College Percussion Ensemble
GLENVILLE, WV - Tickets for the annual Glenville State College Percussion Ensemble will go on sale on Monday, March 3rd. The event will be held on Thursday, April 3rd and Friday, April 4th at 7:00 p.m. in the GSC Fine Arts Auditorium.
"The amount of work put into this show is just incredible, but thanks to everyone's hard work, we are going into our thirty-fourth year of percussion excellence. It is safe to say that this show has become one of the most popular events in north central West Virginia," said GSC Assistant Professor of Music and Fine Arts Department Chair Lloyd Bone.
GSC student tickets are free for the April 3rd show and $10 for the April 4th show. Tickets for other students cost $12.00, and the price of general admission is $15.00. For more information or to reserve tickets, contact GSC Fine Arts Department Assistant Sheri Skidmore at Sheri.Skidmore@glenville.edu or (304)462-4130.