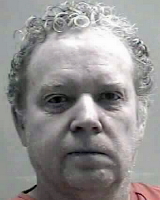 Roane County authorities have incarcerated Ty Allan Evans, 52, on charges, while he is facing multiple charges from several other counties.

Evans, according to Central Regional Jail, has been charged with a capias, attempted escape, failure to appear, fraud, violating home confinement.

While bail has not been set for some charges in Roane, Jackson and Wood Counties, earlier bail amounts in Wood are set at $200,000 and Pleasants at $20,000.

A Calhoun man, Brian Scott Lamp, 32, has been arrested by Mon County authorities and charged with possession of stolen property.

He is in North Central Regional Jail.

Ritchie County authorities have arrested a man only identified as "Big Dick Daddy," 52, apparently an alias and charged him with obstructing.

He is in North Central Regional Jail.