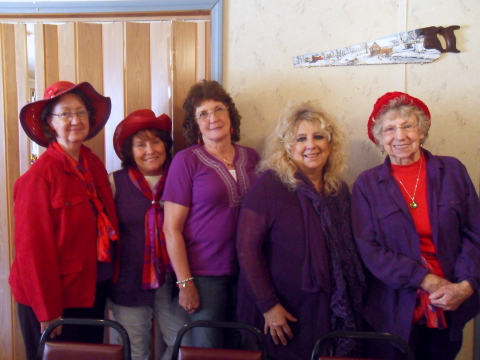 (L-R) Juanita Boggs-Saunders, Shirley Ball, Sharon Knotts,
Marty Park, and Gae Bailey (not pictured Maureen Donato)
Submitted by Lorraine Bailey
The Glamour Girls, local chapter of the Red Hat Society, met at the "Y" Restaurant in Arnoldsburg for lunch, on February 19th. It was a nice day for it, considering all the bad weather this area has had.
The group played games and had a great time. Thanks to Maureen Donato and Gae Bailey for coordinating the afternoon with their games and prizes.
They discussed having their next luncheon on March 19th at Flatwoods, weather permitting, so they can do a little shopping afterwards.
The group also purchased a beautiful floral arrangement in a tricycle, with a Red Hat doll in the center of the flowers and delivered it to Lorraine Bailey, who was absent, due to recovering from her 5 day hospital stay. She absolutely loved it.