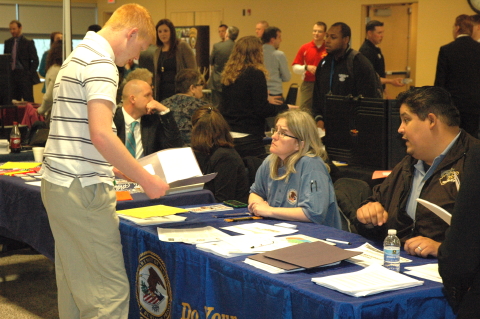 A Glenville State College student visits with
employers during the 2013 GSC Career Fair
Glenville, WV - The annual Glenville State College Career Fair is scheduled for Wednesday, February 26, 2014 from 9:00 a.m. until 2:00 p.m. in the Mollohan Campus Community Center Ballroom. The event is sponsored by the GSC Academic Support Center faculty and staff.
The GSC Career Fair provides area business representatives with opportunities to meet many talented students who will be graduating in May and other recent college graduates who are ready to begin their careers. All prospective employers who provide students with employment opportunities upon graduation, summer employment, or internship positions are invited to participate. Many GSC students always attend the fair, and they look forward to learning about possible employment opportunities.
"The annual career fair at Glenville State College is the perfect opportunity for recent graduates, upcoming graduates, current students, and community members to explore a variety of career fields and opportunities among the 70 employers projected to attend the event. We are also very excited for those employers to see the quality of our students at Glenville State College," said GSC Academic Program Associate and Career Fair Coordinator Joanna DiStefano.
"This year we are welcoming exhibitors representing educational, law enforcement, corrections, social services, environmental engineering, surveying, and non-profit groups from across West Virginia, Ohio, Pennsylvania, and Maryland. We've also been gratified to expand the presence of graduate schools, and over 15 regional programs will be presented," added DiStefano.
Employers interested in having booths at the career fair may download a recruiter information request form at www.glenville.edu by clicking on student life/career services. Registration and participation are free for all businesses.
Employers who are unable to attend the fair but would like to post jobs on the GSC career board may do so by e-mail at www.glenville.edu/life/cs_jobs.php
For more information about the 2014 GSC Career Fair or to reserve space for businesses, government agencies, universities, non-profit entities, or other organizations, contact DiStefano at Joanna.DiStefano@glenville.edu or (304)462- 6151.