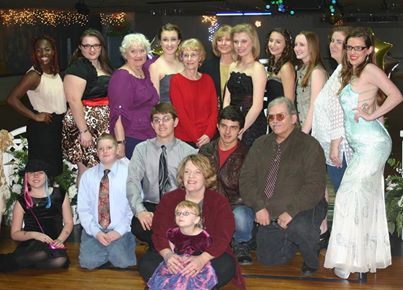 Submitted by Laurie Shultis
WV Kids on First [WVKOF] Annual Awards Gala was held Sunday, Dec 29th at the Roane Recreation Center, and was an amazing success. The S.T.A.R.S., their friends and family, came together for the very first awards ceremony. Awards were bestowed upon those that went above and beyond what was expected of a WVKOF S.T.A.R., and also recognized a multitude of talents and attributes.
Laurie Shultis said "As President, I am proud and pleased to announce that every one of our eligible S.T.A.R.S. was given the Super Student Award, which is given to honor roll students with a GPA of 3.0 or above. It is with great pride that we can announce that 80% of our group maintained a 3.7 GPA or more. We are also proud of the fact that our S.T.A.R.S are community minded and are involved in additional extracurricular activities, many in leadership positions."
With paparazzi flashing their cameras, S.T.A.R.S. walked the Blue Carpet. Radio personality Donna May had a few words with each of them as resident photographers Teresa Martin and Melissa Conley captured the moments. The S.T.A.R.S. were treated to a professional photo shoot by Darling Photos and enjoyed a fun, family afternoon at Roane Recreation Center.
S.T.A.R.S. receiving awards were, Asalyn Patten Most Attentive, Most Improved; Heather Martin Best Friend, Dynamic Duo; Kristyn Conley Dynamic Duo, Most Outgoing, WVKOF Role Model, Presidents Award; Racquel Sims Most Hairstyle Changes, Loudest Giggler; Jaden Giles Best recovery on stage, Song of the Year; Emily Hardway Highest heels, Bust a Move; Jack May Class clown, Behind the Scenes, Most Talkative; Egan Hardway Behind the Scenes; Madison Parker Wildest Costume, Bust a Move, Most photographed; Nicholas Chapman Rhythm in Music; Josh Runyon Best Instrumental of the Year, Most likely to become a Rock Star; Janice Beane Best Vocal Projection; Issac Craziest Dancer; Claudia Marie Most Passionate; Kami Shultis Funniest facials, Dynamic Duo; Kurt Shultis Dynamic Duo, Audience Rapport, WVKOF Role Model.
Sponsors Mentors receiving awards were, Teresa Martin and Melissa Conley Photographer of the Year; Tabitha Giles Videographer of the Year; Vince Metz Soundmaster of the Year; Katie Bowen Most Supportive; Sharon Boyd and Mellon Musgrove Director of the Year; Anna Hardway WVKOF Officer of the Year; Clayton Homes of Spencer Business Sponsor of the Year.
This event culminated in a renewed vision for WVKOF and the focus of new goals with the upcoming year.
Many thanks to others that helped make the event successful - Teresa Martin for her "year on CD" presentation, Anna Hardway for her technical help throughout the even, Vince Metz for making sure sound equipment was adequate, the decorating crew and those that brought food and drinks.