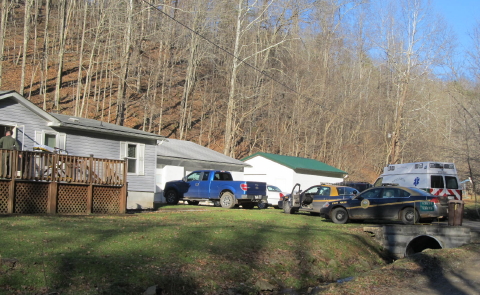 Several State Police and Calhoun Sheriff's Department vehicles
with an ambulance responded to this Richardson residence
following a 911 call reporting a domestic dispute with a firearm
Calhoun authorities responded to a 911 call at Richardson before noon Thursday over a report of a domestic dispute with a firearm, but sources close to the scene are saying that the incident was likely a self-inflicted gunshot wound that resulted in the death of a woman.
Authorities could not be reached to comment on the incident.
Responders went to the Jack Foggin and Claudia Brass residence, one of two remaining dwellings in the faded village of Richardson (Altizer Road) located 14 miles down the West Fork River from Arnoldsburg.
Brass, 63, was found dead, reportedly from a .17 caliber gun.
State Police, the Calhoun Sheriff's Department and Minnie Hamilton EMS responded to the call based on a domestic dispute with a firearm, and remained at the dwelling for several hours investigating.
Calhoun coroner Rebecca Swisher was called to the scene.
State Police are continuing to investigate the incident related to the cause of death. It was not learned if the body was sent to State Medical Examiners Office.