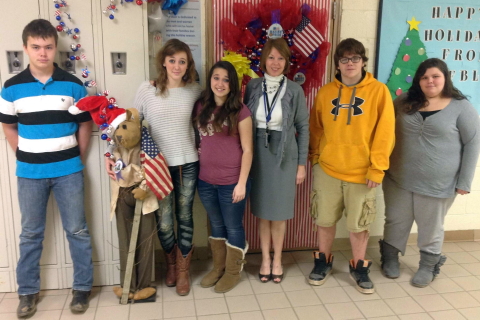 (L-R) Josh McDonald, Shelby Ash, Mickayla Gibson,
Mrs. Deb Hartshorn, Danny Murphy, Breaunna Adkins
(not shown Brandon Skeen)
The Wirt County High School Introduction to Business Class found a clever way to learn to operate a business and support their community this holiday season. On December 20th, the last day of class before Christmas break, these students donated $150 in gift shop profits to Our Community's Foundation - Little Kanawha Area (LKACF) to support the Little Kanawha Area Community Challenge Program.
The community foundation held the community challenge during the second half of 2013 to generate funds to build permanent local grant and scholarship resources for Wirt, Calhoun and Gilmer counties. The class gift will be devoted toward building the LKACF Scholarship Fund which will provide scholarship support for Calhoun and Wirt County graduating seniors who are pursuing higher education.
Wirt County High School Business Teacher Deb Hartshorn wanted to find a "hands on" way to teach her Introduction to Business students how to operate a business and support a charitable fund during the holidays. Ms. Hartshorn and her students created and operated a Christmas shop called the "TANGLED TINSEL".
During December inexpensive gifts valued around $5 were offered at the shop for high school students to purchase for family and friends. The students also provided gift wrapping services to school and Board of Education employees. The shop's profit of $150.00 was then donated to the LKACF Scholarship Fund. Their donation will be matched $.50 for each $1 donated through the LKACF Community Challenge.
Hartshorn knows firsthand the need for support for the LKACF community grant and scholarship funds. She serves on the LKACF Advisory Board and sees the number of requests that come each year for scholarships and grant needs. "I wanted to be able to give my students a meaningful experience - one that not only taught them how to operate a business but also the importance of giving back to their local community. When these students are seniors, this scholarship fund will be available for application for help with their college expenses. They will have a sense of pride in knowing they had a hand in creating this scholarship fund," commented Ms. Hartshorn.
The Little Kanawha Area Community Challenge was launched in June when representatives from Calhoun Banks made a generous challenge gift of $2,500. The challenge provides a 1 to 2 match for every dollar donated to build local grant and scholarship funds. The challenge campaign will run through the end of 2013. The Little Kanawha Area Community Challenge Program will build permanent local community grant and scholarship funding for Calhoun, Gilmer, and Wirt Counties.
LKACF currently holds a community grant fund and a general purpose scholarship fund that provides a modest amount of annual grants and scholarships for Calhoun and Wirt Counties. A community grant fund for Gilmer County is also in the building stage. These grant funds provide vital annual support for local projects and programs in Health, Human Services, Education, Arts & Culture, and Recreation and lasting resources to improve our communities. The LKACF Scholarship Fund will provide an annual scholarship award that rotates between Calhoun and Wirt County High Schools.
"Since LKACF is a young community foundation, the local grant and scholarship funds for these counties are small and therefore cannot provide the level of support needed to adequately address growing needs. Right now we are only able to provide funding for about 5 to 10% of the local requests we receive. It is our goal to add at least $7,500 to these community funds this year. We are grateful to Calhoun Banks for providing a generous challenge gift to kick off our efforts. We are especially happy that Wirt County High School students are supporting the community challenge in such a unique way.
This experience will encourage these students to become community supporters for life. When these students are graduating seniors they may benefit from scholarship support from the LKACF Scholarship Fund. It is our hope that other teachers and students will follow their good work and help build local funds to serve the community." commented Jane Winters, Regional Affiliates Manager for Our Community's Foundation.
The Little Kanawha Area Community Foundation is a tax exempt public charity that was created in 2004 as an affiliate of Our Community's Foundation - the Parkersburg Area Community Foundation (PACF) and its Regional Affiliates. LKACF builds and manages permanent funds to benefit Calhoun, Gilmer and Wirt County residents, causes and non-profit organizations. LKACF has its own local advisory board which includes: Jim Bennett, Chair; Fred Rader, Vice-Chair; Diane Ludwig, Secretary; and members Jean Simers; Karen Caltrider; Alvin Engelke; Pat Lydon; Deb Hartshorn; Ron Blankenship and Dee Scritchfield.
The LKACF volunteers encourage the community to support the Little Kanawha Area Community Challenge by contacting Our Community's Foundation at 304-428-4438; online at www.pacfwv.com; or one of the LKACF members who are spearheading this program: Jim Bennett, Calhoun Banks (304-354-2000 or jbennett@calhounbanks.com) or Diane Ludwig (304-275-4231 or dludwig@littlekanawha.com) by December 31, 2013.