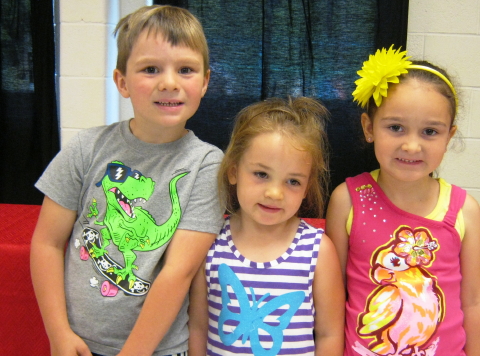 (L-R) Chase Toney, Quinn Bunch, Kayleigh Poling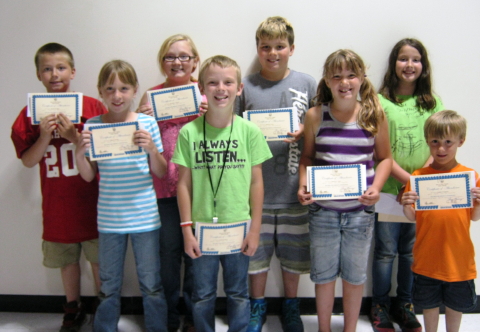 Hayden Bajcar, Ella Hess, Brooklyn Keener, Joshua Hixon,
Bradyn Toney, Kameryn Toney, Katey Bever, Landon Summers
Pleasant Hill Elementary School students receiving Perfect Attendance certificates for the 2013-14 school year are:
Preschool - Quinn Bunch, Kayleigh Poling, Chase Toney.
Kindergarten - Landon Summers.
2nd Grade - Kameryn Toney.
3rd Grade - Hayden Bajcar, Joshua Hixon, Bradyn Toney.
4th Grade - Katey Bever, Ella Hess, and Brooklyn Keener.
Students receiving Faithful Attendance certificates (5 days or less absences) for the 2013-14 school year are:
Preschool - Kayleigh Cunningham, Kayla Ellison, Aidan Garrett, Ryan Harper, Kolten Holbert, Madison Jones, Cooper Morris, Kyla Myer, Craig Perry, Paige Sterns.
Kindergarten - Collin Badger, Cameron Cottrill, Katie Dooley, Keaton Fowler, Sydni Frederick, Maggie Robinson, Jamie Sims, Tressie Starcher.
1st Grade - Madison Bell, Alexis Bunner, Mariah Frederick, Colin Hudnall, Hanna Knight, Parker Muniz, Cayden Parsons, Landon Richards, Jason Starcher, Julianne Taylor, Logan Tingler, Addison Welch, Brayden Wood, Abby Wright.
2nd Grade - Emily Anderson, Payton Bunch, Emily Dennison, Maria Fitch, Myah Frederick, Troy Frederick, Greyson Godfrey, Devin Hess, William Kerby, Levi J. Morris, Levi Stump, Owen Taylor, Tyler Whited.
3rd Grade - Joel Basnett, Emily Bell, Traven Carter, Rayvin Carver, Hope Crihfield, Caelan Harper, Jesse Hess, Colin Jones, Lainee Mace, Malachi Muniz, Kiley Murphy.
4th Grade - Dylan Edwards, Lesta Hess, Ian Richards, Jett Sampson, Helma Starcher, Grant Sterns, Brian Young.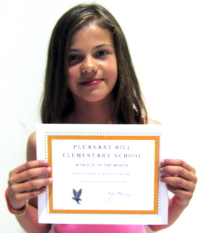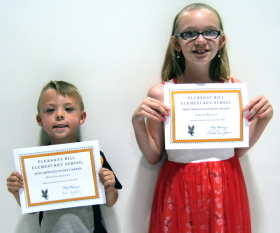 (L-R) Athlete of the Month Savannah Cunningham
Most Improved Students Peyton Ackley and Sarah Wilson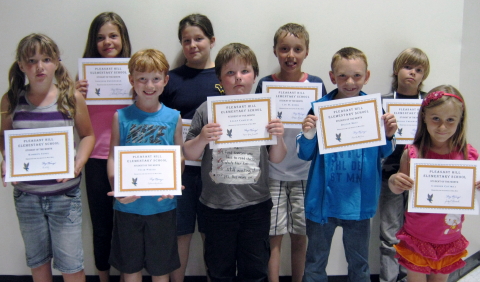 Students of the Month - (Front L-R) Kameryn Toney, Tyler
Whited, Logan Carpenter, Dalton Metz, Cameron Cottrill
(Back L-R) Savannah Cunningham, Allison Stevens, Levi
M. Morris, Michael Frederick Bandy (Not Pictured Joseph Nelson)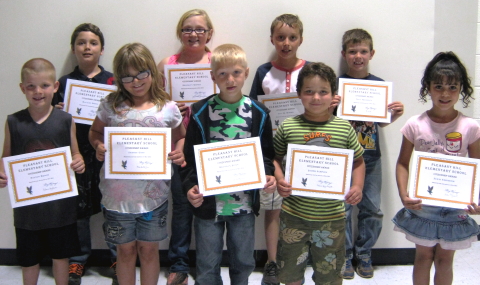 Citizenship Award - (Front L-R) Payton Bunch, Sydney Goff,
Brandon Flinn, Joseph Sampson, Sydni Frederick (Back L-R)
Malachi Muniz, Brooklyn Keener, Levi M. Morris, Troy Frederick