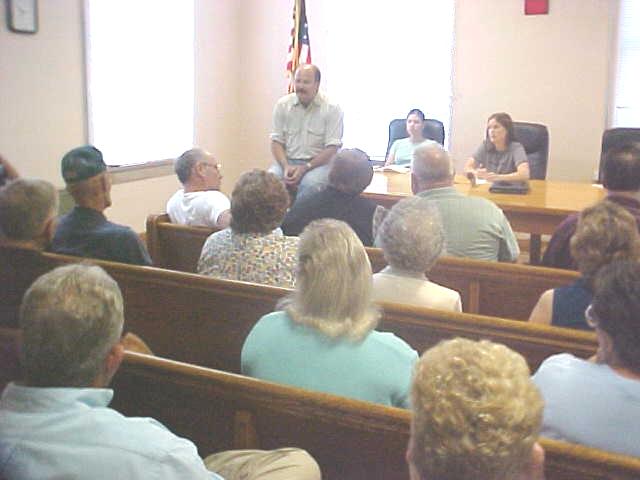 Engineer Randy Campbell talks with Calhoun citizens
The Army Corps of Engineers came to Grantsville last night to discuss the future of the Little Kanawha River watershed. Randy Campbell, an engineer with the Corps from Huntington, told a packed crowd at the courthouse what is not likely to happen.
He said the building of the long proposed dams on Steer Creek or the West Fork of the Little Kanawha above Creston is not on the list because of the cost-benefit ratio. Too few people live in the area.
The dredging of the river is also not cost effective, mostly because it is an ongoing effort. "It is something that has to be done every two years or so," he said, referring to the river being filled with silt.
He said his visit to Little Kanawha River towns is to "recon the area" and evaluate what could be done to improve the river. "The silt problem has been building for over 50 years. He blamed timber removal, oil and gas drilling, quick built roads and farming for the silt problem.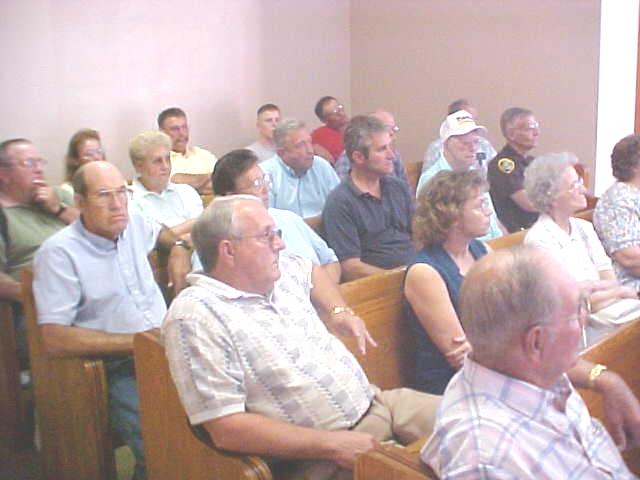 Residents fill little courtroom to hear presentation
He said small holding dams or dry dams might help the river and flooding, but problems must be attacked on a local watershed basis. He said flooding is still a serious problem along the river.
The group asked several questions regarding what causes erosion along the river banks.
Campbell said the original study of the watershed was made about 1937, and studies up through 1990 are rehashes of the earlier work.
He said a new flood warning system for the entire state is being developed, which could help rural areas.