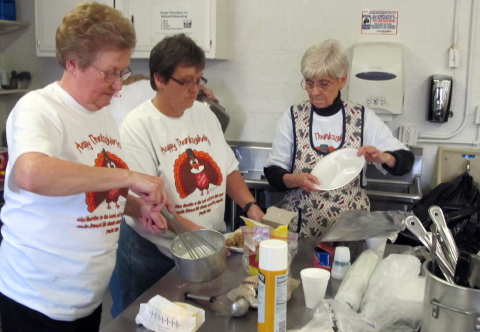 Dutiful volunteers serve Thanksgiving meal to county residents

A number of dutiful volunteers made Thanksgiving Day a little better for a number of Calhoun residents, preparing, serving and delivering a special meal.

CCCOA Director Rick Poling said, "Thanks to the over 212 collective hours of work by 32 wonderful volunteers combined with the generosity of the Salvation Army of Parkersburg."

Poling said "Operation Happy Thanksgiving" 2013 was a happy success. With cooking starting at the Senior Center at 7:15 am Thanksgiving morning, by the time the last meal was delivered at 2:45pm, 351 total meals had been served.

Of that number, 154 were delivered by volunteers and 79 were picked up for folks to have Thanksgiving dinner at home. And, a donation box for the Salvation Army collected $223.51.

"We greatly appreciate the time, efforts and kind generosity of spirit shared by all our volunteers. As much as they gave, to a person, they all asserted that they had received much more than they gave," Poling concluded.