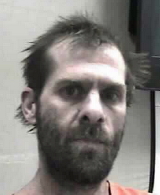 Another Calhoun man has been arrested related to meth production.

Matthew William Rapp, 41, of Country Lanes, Mt. Zion, has been charged with the possession of precursors used in the manufacture of meth.

Rapp is in Central Regional Jail with bond set at $5,000. State Trooper David Moore, according to the criminal complaint, stopped a vehicle on Sinking Springs Road in which Rapp was a passenger.

The complaint says a number of ingredients and materials used in meth making was discovered in the vehicle, and others have been previously charged from the incident.

The complaint says, an occupant in the vehicle stated, "Everyone in the vehicle either knew the items were being purchased or had purchased the items to make meth."

See CALHOUN MEN ARRESTED ON METH CHARGES IN TWO COUNTIES - Video Surveillance In Lewis County Identifies Suspect

A Roane County man, Christopher Shawn Anderson, 36, has been charged with inhaling intoxicants and obstructing. He is in Central Regional Jail with bond set at $5,200.

Gregory Allen Kidd, 30, was arrested by Roane Co. authorities and charged with domestic battery and brandishing a deadly weapon. Bond is set at $13,000.

Bond has not been set for Christopher Jordan Carpenter, 20, of Roane County, who has been charged with battery on an officer or responders, with a second charge of obstructing.