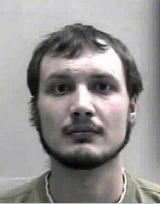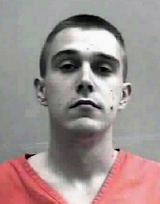 James Scott Morford (L) Adam August Park
Calhoun authorities have arrested two men related to meth making.
James Scott Morford, 29, of Grantsville, has been arrested on charges from Lewis County. He is charged with operating or attempting to operate a clandestine meth lab. He is being held in Central Regional Jail with bond set at $50,000.
Trooper J. C. Johnson, in a criminal complaint, says Lewis authorities discovered a discarded meth lab with assorted precursors on Jennings Run Road in September, with receipts leading to Weston area stores.
The complaint says the investigation led to the viewing of surveillance video at the Weston Dollar General Store of Morford making a purchase of meth ingredients.
The complaint says 13 minutes later, meth making materials were purchased at Weston's Rite Aid store.
Police interviewed Dana Butcher of Weston, who said he purchased a box of pseudoephedrine at the Rite Aid store for Morford.
The complaint maintains another surveillance video was obtained from Weston's GoMart, where Butcher dropped Morford off to purchase ingredients.
A conviction on the charges says the person shall be confined to the state penitentiary for not less than two years nor more than ten, and fined not less than $5,000 nor more than $25,000.
Adam August Park, 24, of Grantsville, has been charged with possession of precursors to manufacture meth, according to a criminal complaint. Park is in Central Regional Jail with bond set at $5,000.
Park was arrested on Sinking Springs Road on November 4 by Calhoun Trooper David Moore.
Park, according to the criminal complaint, was a passenger in a car and had in his possession a number of precursors used in making meth.
The complaint says an occupant in the vehicle said, "Everyone in the vehicle either knew the items were being purchased, or had purchased the items to make meth."
In a separate criminal complaint, James Scott Morford, the driver of that vehicle, was similarly charged in that incident.