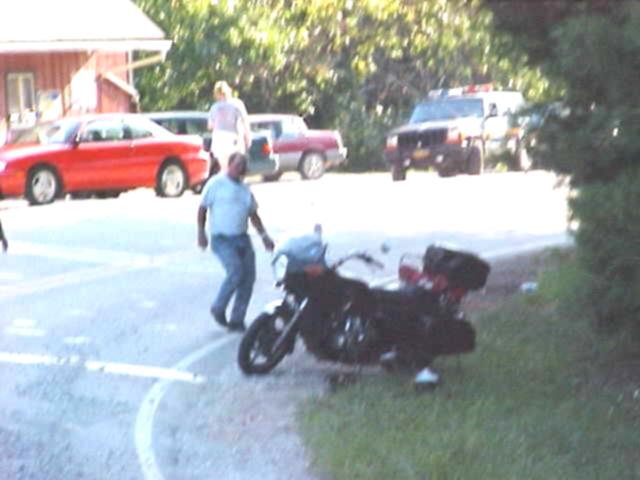 Cycle was moved to right of road, rock scattered on highway (left)
A Massachusetts cyclist died Saturday evening when his bike spun out of control in a sharp turn on Route 16 at Five Forks. Dead is William P. O'Brien, 63 of Dedman Massachusetts. Sheriff Allen Parsons said O'Brien was traveling north when he attempted to round a sharp turn at Reed's Store, a site of other fatalities and accidents over the years.
Sheriff Parsons said there was a considerable amount of rock on the highway, which apparently came from a recent berm job done earlier in the week. "He must have gone out of control when he hit the rock in this turn," he said.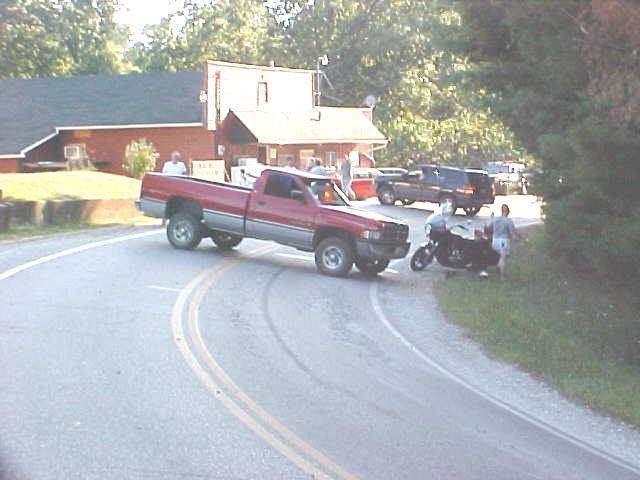 A familiar scene for accidents at Five Forks
O'Brien and a friend, Gary James Fitzpatrick, had reportedly been sightseeing around the country for three weeks, both on Honda cycles. Fitzpatrick, who was following O'Brien, witnessed the accident.
Calhoun EMS responded to the scene with the Grantsville Volunteer Fire Department at 4:45 p.m. HealthNet was summoned from Charleston and plans were made to life-flight the injured man from Pleasant Hill School to a medical center.
His conditioned worsened as the chopper arrived, and efforts to resuscitate him failed. He was taken to Minnie Hamilton Health Care Center.
Sheriff Allen Parsons is investigating the accident.