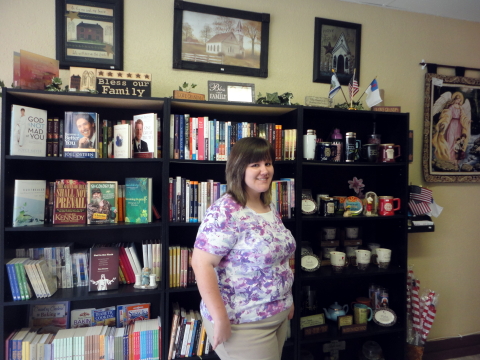 Jessica Neville's J & K Bookstore is a dream come true
By Harriet Whipkey
Jessica Neville had a dream, and on April 1, 2013, that dream became a reality: the J & K Christian Bible Bookstore officially opened its doors for business.
The dream had its genesis when, coming back from yet another trip out of town for supplies, Jessica said to her mother, "We need a Bible bookstore in Spencer!"
Time passed. "But I didn't act on the idea," Jessica says. Then she had a dream/vision in which—"A man told me to act on what I felt within my heart." Her mother, Loretta, told Jessica to "mind God." So she did. "I have faith that I was meant to open this store."
Jessica graduated from Roane County High School in 2010. She attends WVU—Parkersburg; however, she took a break from classes this semester to give full attention to the newly formed bookstore. Next semester, Jessica will be able to juggle work and school as she will only have to attend two classes in order to complete her associate's degree in education.
Jessica in front of one of the store's
displays - Photos Courtesy of J & K Staff
"I do plan to teach after graduation," Jessica says, adding, "I'm hoping by that time, I will be able to hire at least one employee for the bookstore." Meanwhile her mother, Loretta Koon, helps run the store.
"My goal is to help others with obtaining Bibles, literature, supplies, spiritual gifts, and much more. Even though we are a retail store, I feel that we can help others find Christ. If we change one person's life, it will all be worth it."
Jessica is a member of Gandee Chapel Church where she also teaches Sunday school.
The J & K bookstore is located at 315-B Market Street in Spencer. Its hours are Tuesday through Friday, 10:00 a.m.-5:00 p.m.; Saturday, 9:00 a.m.-5:00 p.m. Closed Sunday and Monday. Phone 304-927-0880.