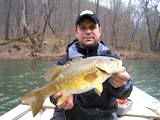 By Cory Boothe
Coryboothe@hotmail.com

Calhoun has recently produced some large deer. Last year, Calhoun County had the third biggest buck in the state for 2012. That buck scored over 160 inches. In 2011, Calhoun had the fifth biggest buck in the state scoring over 156 inches.

However, none compare to the largest buck ever taken in Calhoun County. That buck was killed in 1991 by William Dorsey. That buck comes within an eighth of an inch of being 180 inches typical. Currently, the William Dorsey buck is the fifth largest typical buck ever taken in the state of West Virginia.

What does it take for a deer to get so large? Its a combination of age, nutrition, and genetics. We have very little control over nutrition and genetics. However, we can really help with age. If you want to see a large buck, let the small ones live. Its that easy. The three and a half year old ten point could have easily been a spike his first year of life. Same genetics. The two additional years of growth allowed him to reach more of his potential.

If hunters in Calhoun would let a scrub buck walk while harvesting a doe, the results would be tremendous the very next year. This is seen when we have a low buck harvest. The next year is great because we have more deer that got an additional year of age to them.

An example is in 2010 only eleven bucks of over 140 inches were submitted to the West Virginia Big Buck Club and the state experienced a low harvest of roughly forty-three thousand bucks during gun season. The next year twenty seven bucks made the big buck club and roughly sixty-thousand bucks were killed in gun season. The low harvest of 2010 allowed many deer to get another year of growth and the results were dramatic in 2011.

Personally, I know of one holler in Calhoun that was absolutely full of spikes last year. None were killed and this year the area is full of six to eight pointers. Many of which were last year's spikes. Another year of growth will allow these deer to reach that nice sixteen to eighteen inch wide eight to ten pointers.