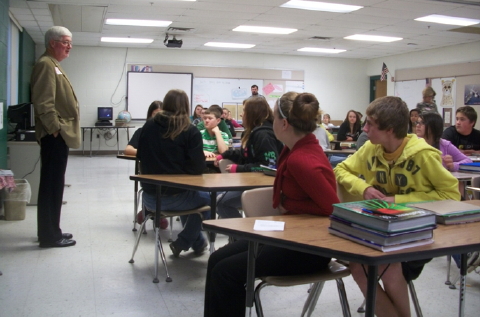 By Dan Cosgrove
Social Studies Teacher
Invited by social studies teacher Wesley Young, Senator Edgell and his wife Cecilia ("Ceci") paid a visit to Calhoun Middle/High School on Thursday, November 7.
Greeted by students at the door, they were escorted to a combined 8th grade class where he spent close to 2 hours discussing his role as a State Senator, and gave students an overview of the legislative branch. The students had recently finished a unit on government, with emphasis on the roles of the three branches, and students were well prepared with questions.
Caroline McCumbers wanted to know about what the state is doing, or what could be done, about phasing out our dependency on coal. He gave a lengthy talk about the coal industry, and also discussed natural gas and oil production in West Virginia.
After hearing that the senator represents all or part of 9 counties, Noah Allen did not mince words, asking what he has done for Calhoun County. The senator mentioned working with delegate David Walker on the leaky roof of the courthouse and mentioned various grants requests from all the counties he represents. He made a point that anyone could call him and he encourages people to do so.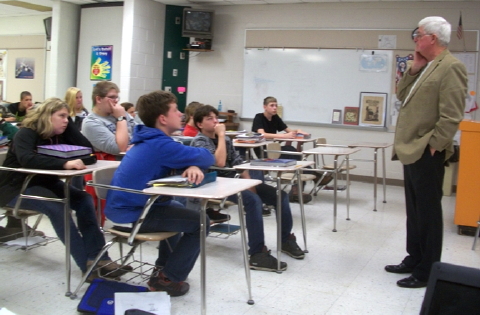 Senator Edgell giving thoughtful contemplation
to some of the questions students asked
Other questions included everything from his background in hunting and fishing to his opinion on legalizing marijuana (he discussed his views on its potential medicinal use).
After meeting with the 8th graders, the senator and wife had breakfast with a handful of students for small group discussions. They then went to the high school side to meet with the civic classes.
After meeting with the students, the senator express how impressed he was with the students, both in their behavior and with the questions they asked—especially significant coming from a former teacher and a member of the education committee in the senate.
A special thanks for Mr. Young for coordinating the event. He has also arranged an opportunity for students to Skype with Senator Joe Manchin later this month. These opportunities afford students the chance to learn outside the textbooks, and get a better understanding of how our government works.
And of course, a special thanks to Senator Edgell and his wife Ceci who left their Wetzel County home very early Thursday morning and made the long and arduous route 16 trip to the school to give our students one of the best lessons of the year. We appreciate it.