By Granddaddy, Glenn McEndree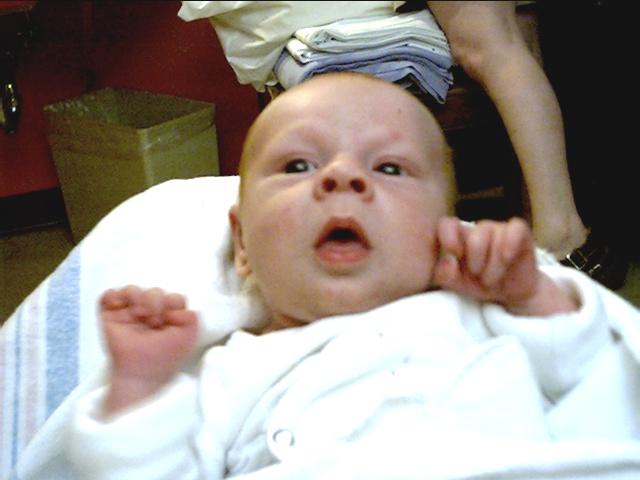 Bailey is home now, having been released from Ruby Memorial Hospital on August 29. He was admitted on August 12 and had open heart surgery on August 14 to repair a defective aortic valve.
The surgery involved a microscopic "snip" of the existing valve to allow it to open more. This is a temporary fix and he will require at least one more surgery sometime between the ages of 2 to 12. His valve had almost completely closed prior to surgery. The ultimate goal is to do valve replacement, but they will have to wait until his heart is fully grown to do that.
Bailey also developed a lung problem after surgey, but that was treated and his lungs are apparently doing fine now.
Bailey will to go to Morgantown monthly for at least the next six months.
Alisha is having to take Bailey to his pediatrician weekly in Parkersburg to monitor his weight. So far he has continued to steadily gain weight and currently weighs 9 lb 8 oz. His weighed 6 lb 5 oz at birth on July 19.
Also, when they did an echocardiogram after his surgery, they found a hole in his heart. They will wait one year before deciding what to do about that. They are in hopes that it will close by itself, but if not, they will do surgery to repair that too.
Bailey has made remarkable progress. He looks and acts like any normal healthy baby. He is very alert and loves looking out the window (and being outdoors). He truly has been a blessing to the whole family and also to our community. We have spoken with so many people who have told us they have been praying for Bailey and will continue to do so. We appreciate all of the prayers and encouragement we have had from our friends and neighbors. Bailey truly is our "Miracle Baby."
Bailey's parents would appreciate prayers, well wishes and encouragement. Their address is:
Scott and Alisha Lawson
152 Rolling Hills Court
Parkersburg, WV 26101