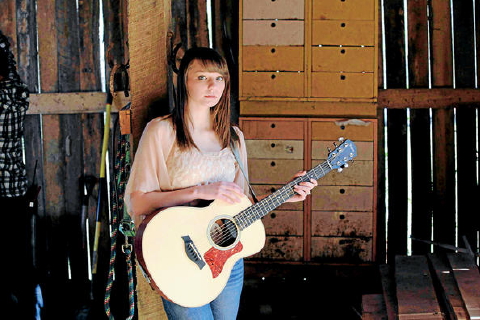 Autumn Blair, 17, of Chloe, W.Va, is one of several aspiring
singers profiled on the new Lifetime show, "Chasing Nashville,"
which premieres at 10 p.m. Tuesday. (Richard McLaren photo)
By Amy Robinson for the Charleston Gazette
CHARLESTON, W.Va. - Lifetime's latest reality series, "Chasing Nashville," premieres at 10 p.m. Tuesday, and it stars one of West Virginia's own.
The show follows four small-town Appalachia girls with dreams of country stardom, among them Autumn Blair of Chloe, Calhoun County. "A true coal-miners daughter, Autumn hails from one of the back hollers of West Virginia and is related to country great, Loretta Lynn," the show's page on mylifetime.com proclaims.
She'll be joined by Helena Hunt of Clyde, N.C.; Lauren Marie Presley, originally of Red Water, Texas, and Savannah Little of Pikeville, Ky. Three other Kentucky-based singers will also appear: Julia Knight of Lexington; Celeste Turner of Prestonburg and Tyra Short of Pine Top.
The nine-episode show will chronicle the aspiring singers' journeys as they try to make it in Nashville and also delve into their home lives and the sacrifices their parents have made for their daughters' potential careers. Along the way, they'll be mentored by Grammy-winning producer Keith Thomas and writer/producer Deanna Walker.
When I looked up the show to find out more about it, I recognized Autumn's name and face right away. I know her from when I judged the "Charleston's Teen Idol" competition sponsored by Charleston Town Center and Coca-Cola. Though she never won, she made it to the semi-finals her first year and was one of six finalists the next two years.
(Speaking of "Teen Idol," 2011 winner Colton Pack got a yes from all four judges in his "X Factor" audition, so we'll be seeing him again in the Fox competition this season.)
I remember being impressed not only with Autumn's voice, but also her maturity. Reality TV is hardly known as a bastion of class; hopefully, her poise will shine through here and, combined with her voice, lead her to bigger and better things.
Read the rest Teen singer from W.Va. stars in new Lifetime reality series
See also AUTUMN BLAIR COMPETING IN COLGATE COUNTRY SHOWDOWN
AUTUMN BLAIR CHOSEN CALHOUN IDOL