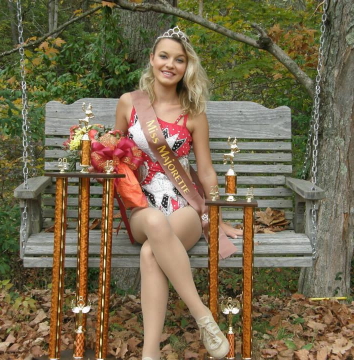 Kiersten Knicley, a junior at Calhoun High School, has set a record for Calhoun County. She was selected as 2nd runner-up Feature Twirler for her performance on the field with the Calhoun County Middle/High School Band, and won the 59th Annual WV Black Walnut Festival Miss Majorette title Saturday, October 12.
Kiersten was chosen on her ability to twirl and characteristics of poise, appearance, and showmanship. The band competition lasted from 3:15 until approximately 8:00 p.m.
She is the 17-year-old daughter of Russell and Trisha Knicley, of Orma. Her grandparents are Patricia Knicley of Crummies Creek, Mary Harris of Beech Rd. Orma, and Chester Harris, of Tennessee.
Kiersten also has a 14 year old brother, Russell, Jr, and a 15 year old sister, Brooklyn, both still living at home, 2 half siblings, Catlin and Steven, both married, and also a 19 year old half sister, Nickie.
She is the feature twirler with the Calhoun County Middle/High School Band, under the direction of Mr. Michael McHenry.
After she graduates from high school, she plans on attending Marshall University with the hopes of becoming a pediatrician.
Her proud coach is Lorraine Bailey of Orma.