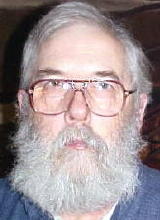 By Alvin Engelke
alvinengelke@hotmail.com

Halloween is coming soon and the social event of the season in Creston is the big Halloween party, the one night when one can dress up and be somebody. Of course there will be plenty of activities for the ones who actually are children.

The Wirt County Farm Bureau's annual meeting and covered dish dinner will be held Tuesday, October 22 at 6 P. M. in the fellowship room [downstairs] at the Elizabeth United Methodist Church. All Farm Bureau members and friends are urged to attend.

Rev. Keith Belt filled his regular appointment at the Burning Springs M. E. church. His mother is scheduled to visit the Cleveland Clinic for some ticker adjustment. It was reported that she has been "being a bad girl and doing more than she should".

Charles Russell was consulting with Dr. Suresh Balasubramony at Minnie Hamilton. Also visiting there was Clay Rader.

Nancy Engelke, Mandee & Brogan Richards returned after visiting Jane, Scheny, Harrison & Rea Schenerlein in Florida.

Some local residents were touring the Trans Allegheny Lunatic Asylum recently over at Weston.

Some local folks, including most of the Brooksville Buckeye crew attended the big chicken & pork feed at the Calhoun County Park put on by Oil Haulers, LLC. A former newspaper man (The Greater Five Forks Free Press) now turned chef served up tasty food. Buckeye recently drilled a horizontal Berea well in the famous Yellow Creek oil field. The well was said to have been "a learning experience".

Jeff & Monica Davis of Newcomerstown Ohio were visiting friends, relatives and graveyards in the Burning Springs & Industry area and attended church at Burning Springs.

The Mothman was suffering from pneumonia fever but is better now. He & Cap'n Spock were attending to business in Mineral Wells.

Brandon Ferrell spent the weekend visiting at the Carl & Donna Ferrell residence.

Some of the local coons were calling on Buster & Sally and Buster was also consulting with Dr. Dan Cain.

Doyle Hupp's crew was seen doing some surveying in Creston.

Talk continues about local Marcellus & Utica prospecting with a strong emphasis on Cabot's proposed test near Larkmead in Wood County. It was noted that Cabot is busy leasing tracts due south of the location offering a ten year paid up net proceeds lease for $50/acre. P. T. Barnum must be a consultant for the firm. At the same time the "big boys" want the folks who meet down at the Mouth of the Elk to pass legislation that allows them to 'take" property for oil & gas drilling when the owners will not agree to unreasonable and unconscionable terms.

Cap'n Spock was consulting with Richard Starcher concerning some repairs to a Federation Star Ship.

The Asplundth tree trimming crew has been working in the Creston area going from place to place.

While the "chattering class" talks about all the bad things that might happen because of the 13% government shut down and a proposed "default" many local folks have an attitude of "ho hum, so what". Normal people when the credit card hits the limit quit spending and work on reducing the outstanding balance. Likely it wouldn't hurt the fat cats inside the beltway down in the swamps along the lower Potomac to try that approach. The Big Eared One went out of his way to make matters difficult for American war veterans and visitors to national parks but gladly allowed a rally for illegal aliens on the 'closed' national mall in the capitol city. If more money cannot be borrowed from the communist Chinese and other nice folks many meddlesome busybodies who have government jobs might get laid off and be forced to obtain gainful employment -- learn about how things are done in what they call "flyover country". There's lots of multiflora rose and autumn olive that needs cut & grubbed -- both government programs "to help people" or so they said. He and his henchmen stopped the proposed trucker demonstration in & around Washington by threatening to take away the drivers CDL licenses, reminding the drivers that "you do not mess with the all powerful federal government, the state".

Speaking of government program the government ladybugs or Asiatic beetles turned loose by Bill & Hillary Clinton are starting to move into homes for the winter and some report large numbers of the new stinkbugs taking up residence.

C. P. & J. P. Marks were among those calling at the Creston Space Dock.

Some folks are still making hay and the weather, for this time of years, has been favourable. While Jacques Frost has yet to call the mercury did drop to 32 degrees Fahrenheit the other morning on Burning Springs Run. Some leaves are starting to turn and many have fallen.

The price of local Pennsylvania grade crude oil dropped to $99.52/bbl with drip fetching $79.30 with Marcellus & Utica light bringing $94.96/bbl and medium $101.02.

It was reported that Antero, the big Marcellus driller in Harrison & Doddridge Counties went public and it was also reported that two dozen or more Doddridge County citizens brought an action against the firm for various things that the firm and its employees had done. It was noted that they had a road blocked and a resident had to get out to get to work. That problem resulted in the local resident getting beaten up.

The views and opinions expressed herein are those of the author and do not necessarily reflect the views of the Hur Herald.