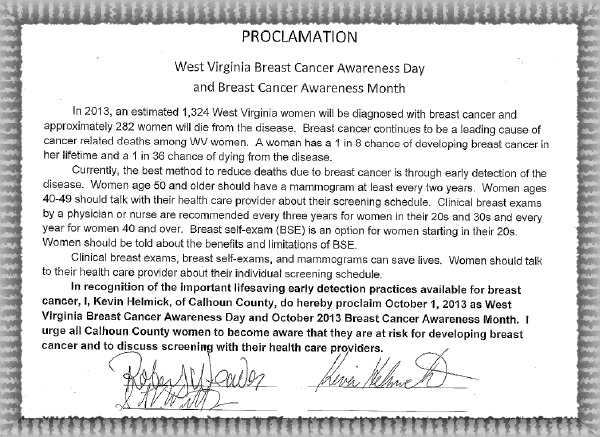 West Virginia Communities Unite Against Breast Cancer
Breast cancer is a dangerous disease, with more than 1,300 women expected to be diagnosed in West Virginia in 2013. As the fight against breast cancer continues, West Virginia communities are coming together to spread the word about prevention and early detection.
October is National Breast Cancer Awareness Month and West Virginia is recognizing this special month with a variety of activities. Tuesday, October 1, 2013 marks the nineteenth annual West Virginia Breast Cancer Awareness Day. On this day and throughout the month of October, hundreds of West Virginians will demonstrate their commitment to fight the disease that has claimed the lives of so many women.
The goal of Breast Cancer Awareness Month is to increase awareness about the importance of early detection of breast cancer. Currently, the best method to reduce deaths due to breast cancer is through early detection. The American Cancer Society recommends a yearly mammogram for women starting at the age of 40. Clinical breast exams and breast self-exams are recommended for women in their 20s and 30s. Women should talk to their health care provider about their individual screening schedule.
Many mammography facilities offer reduced rates on mammograms during October. For information about breast cancer, call the American Cancer Society at 1-800-227-2345 or NCI's Cancer Information Service at 1-800-4-CANCER.
The West Virginia Breast and Cervical Cancer Screening Program offers free or low cost mammograms, breast exams and Pap tests to women who quality. For more information about the screening program call your local Health Dept. or the WVBCCSP at 1-800-642-8522 or visit www.wvdhhr.org/bccsp