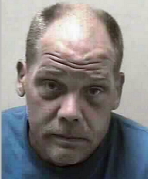 A Whitesboro NY man of many aliases, charged in Calhoun with with multiple crimes from prostitution and pimping to filming a minor in a sexual act to having a stolen vehicle, was sentenced to prison this week in Calhoun Circuit Court.

James Robert Morsey, 41, aka James Robert Hammonds, entered a plea of guilty to possession of a stolen vehicle, a felony, and keeping a House of Ill Fame, a misdemeanor, according to Prosecutor Shannon Johnson.

Morsey waived his right to a pre-sentence investigation, and was sentenced by Judge David W. Nibert to one to five years in the state penitentiary for the felony and one year in the regional jail for the misdemeanor.

The house of ill fame was a stolen van in which Morsey was traveling in the Chloe area of Calhoun.

Morsey, according to the criminal complaint, was pimping a 17-year-old female in a stolen van, with State Police discovering a photo of Morsey engaged in a sexual act on a cell phone they found in his parked vehicle at Minnora.

The complaint says during September, 2013, Morsey did let three other men, residents of the southern Calhoun area, have sexual contact with the minor in the back seat of the stolen Dodge Caravan.

The complaint says Morsey did receive money for pimping the minor, with one subject agreeing to "the right price" and paying $44 for oral sex and another subject paying $50 twice for oral sex, according to the complaint.

State Police brought charges against Morsey regarding withholding his identity, giving false names(s) and date of birth, the complaint indicating the he had outstanding warrants from Charleston WV to New York state.

Morsey appears to have used other names, including Jamie Hammond, JB Jones, James R. Brick and James Harper.