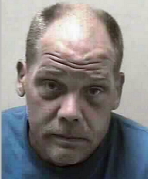 State Police in Calhoun have arrested a man who is using several aliases, charging him with multiple crimes from prostitution pimping and operation of a house of prostitution to filming a minor in a sexual act to sexual exploitation.

The man has been booked into Central Regional Jail under the name of James Robert Morsey, 37, but he has also been booked under other aliases, including James Hammond, Jamie Hammond, JB Jones, James R. Brick and James Harper. He is being held on $70,000 bond.

State Police are reportedly trying to sort out the man's real identity, with sources indicating the man is originally from New York state, but had apparently been in southern Calhoun where he allegedly engaged with others in a sex operation.

He has also been charged with theft, transfer of stolen vehicle, and petit larceny.

State Police do not issue public information in Calhoun County, with information regarding the incident to be issued from Calhoun Magistrate Court or Calhoun Prosecutor Shannon Johnson.

More to follow ...