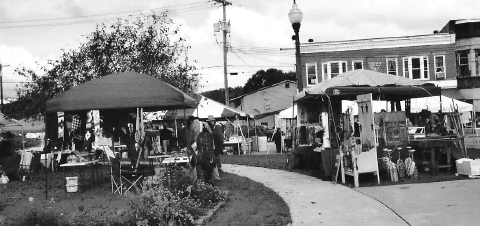 Scene from 2012 Pioneer Day in Elizabeth, West Virginia
The Elizabeth Beauchamp Chapter Daughters of American Pioneers is expanding their 11th Annual Wirt County Pioneer Day into a two day event. On Saturday, October 5 the activities and events will be held around courthouse square in Elizabeth, WV.
Crafters will demonstrate the art of basket making, apple butter stirring, crocheting, spinning and weaving. Vendors will be serving hotdogs, pork barbecue, baked potatoes, beans and cornbread, Dutch-oven cobbler and cinnamon rolls.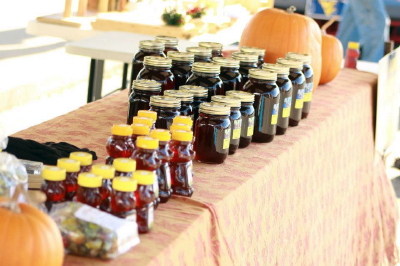 The annual CEO's quilt show will be held in the courthouse lobby. There will be bluegrass music, children's games, a cake walk, and Relay for Life teams will be sponsoring an antique and classic car show. Lots of free children's activities, crafts, and the combo bouncer and obstacle course will be available on the museum lawn. The museum, the hotel, and the McClung-Morgan house will be open for tours.
On Sunday, October 6 there will be a celebration of the 150th Anniversary of the Civil War.
This event is being provided free to educate the general public and school children about the history of our great country. The event will be held on the Roberts property at the intersection of Rt. 14 and Rt. 5 in Elizabeth.
Four historical re-enactment units will be opening up their camp sites at 9:00 a.m. The units take pride in the high level of authenticity displayed in both individual clothing and equipment, as well as equipment used in camp. At 2:00 p.m. the soldiers will participate in a Civil War re-enactment battle which will include the firing of muskets and cannons.
2013 Wirt County Pioneer Vendor Day Schedule of Times Saturday, October 5, 2013, Elizabeth, WV Music and Stage Area
9:00 AM Prayer - Vendor Booths Open; 12:30 PM Cake Walk; 1:00 PM Music, Phil Jones; 2:00 PM Music, Danny and Linda Mullen; 4:00 PM Music, Gary Tolley; 5:00 PM Music, Lonesome Midnight Cowboys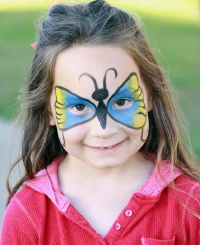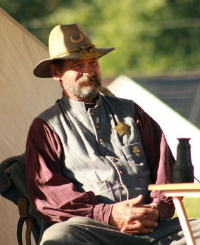 Special Activities & Events
9:00 AM - 3:00 PM CEOS Quilt Show - Courthouse Lobby (Prizes Awarded); 10:00 AM - 10:30 AM Veteran's Tribute - Taps - Wreath Laying; 11:00 AM Kanawha Hotel - Robert B. Newman, III as a Circuit Rider; 10:30 AM - 2:00 PM Kids Historical Timeline - Little Kanawha Hotel Grounds; High Noon CIVIL WAR Skirmish - Street; Noon - 2:00 PM Kids Professional Face Painter, Darcy Fisher; 10:00 AM - 2:30 PM Relay for Life Car Show - Wirt High School Parking Lot; 1:00 PM - 2:00 PM Kids Games (Sack Race, Egg & Spoon, Hay Pile Hide, wheelbarrow race and 3 legged race) Richard Lowe's Lot
Tours
10:30 AM - 11:30 AM 1st Little Kanawha Hotel Tour; 1:00 PM - 2:00 PM 2nd Little Kanawha Hotel Tour; 10:30 AM - 3:00 PM Beauchamp-Newman Museum Tours (Corn Bread & Beans); Noon - 3:00 PM McClung-Morgan House Tours
Day Long Activities
Leaps N Bounce Inflatables - Museum Lawn; Crafts, Professional Face Painting & Kids Activities - Museum Lawn; Food and Vendor Booths and Craft Demonstrations; Civil War Encampment on Hill's Lot; Buggy Rides