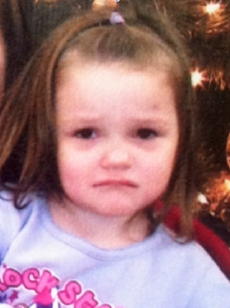 The trial for a former Lewis County woman accused of killing her then 3-year-old daughter started Monday in Weston.

Lena Lunsford, 35, now of Florida, is charged with murder of a child by failure to provide necessities, which carries a life sentence; death of a child by parent by child abuse, which carries up to 40 years in prison; child abuse resulting in injury, which carries 1-5 years; and concealment of a dead body, which also carries 1-5 years.

Aliayah Lunsford, 3, was reported missing by her mother on September 24, 2011. Her mother frantically called 911 reporting that her "baby was missing."

An exhaustive search followed that 911 call for Aliayah or her remains, but to this day, her body has never been recovered.

Lunsford was arrested in November 2016 and charged with Aliayah's death after a witness came forward. It was revealed in court on Monday that the witness was Lunsford and her ex-husband, Ralph Lunsford's, daughter who was 9-years-old at the time of the girl's disappearance.

"They couldn't keep that secret any longer. They needed to make it right with God and they wanted to bring justice to Aliayah," Lewis County Prosecutor Christina Flanigan told the jury, also referring to the couple's other daughter who is expected to testify.

Eyewitness News is not releasing the girl's name because she is a juvenile. She will be referred to as D.C. She is now 15-years-old and was the state's first witness in the trial that is being heard by Lewis County Circuit Judge Jake Reger.

D.C. testified that her mother would treat Aliayah "differently" than her other siblings, often punishing her more severely, sometimes forcing her to drink saltwater. D.C. said she thought it was because Aliayah had a closer relationship with her grandmother, Joanne, Lunsford's mother who is now deceased.

D.C. told the jury that she witnessed her mother hit the 3-year-old in the back of the head with a broken piece of a bed board the evening of September 23, 2011. "I can say without a doubt that that's what it was," she told the court. She also said Aliayah was forced to stay in the corner that evening and could not stand on her own.

D.C. claims that she remembers Aliayah's head feeling "squishy" as she and her older sister, who was 11 at the time, put her to bed that night. She said she remembers saying Aliayah said she felt like her head "was going to explode." She also says she remembers that her sister gave Aliayah some type of medication before she went to sleep to try to make her feel better. She said she believed it was vitamins.

The next day, D.C. says her mother made her and her sister wake-up Aliayah, but she was unresponsive. She told the court that her mother rushed in and shook the girl before carrying her to a counter to try to get her to wake up, but she remained unresponsive.

D.C. testified that Lunsford put Aliayah's body in a laundry basket with other clothes before putting more clothes on top of her and carrying the basket to their van parked outside their home in Bendale.

She says she, her older sister, younger brother and Lunsford drove to a remote area of Vadis where she watched Lunsford carry the basket with Aliayah's body into the woods and then return with just the basket. She says her mother had dirt on her clothes.

She went on to say that once back in the van, Lunsford made her and her sister "make mommy a promise not to tell anyone."

At one point on the drive, the van ran out of gas and Lunsford allegedly made the girls ask a neighbor for gas. Once they returned home, D.C. says Lunsford began to bleach down parts of the home before calling 911.

D.C. says she remembers police responding to the home and Lunsford instructing her to look for her sister in the home even though they knew where she was. She says her father, Ralph Keith Lunsford, was not home that morning when they left with her body in the van. Prosecutors contended in opening arguments that he didn't have anything to do with Aliayah's death.

D.C. says she remembers her father, who she calls "Keith" ask her for the truth. "I was afraid of breaking the promise," D.C. testified. "I was afraid she was going to hurt us."

D.C. said that prior to October 2016, she had never talked to anyone about what she says really happened. She said in June of 2016, she went to a church youth camp and God had put it on her heart to tell the truth. She said she felt like withholding the truth "was hurting her relationship with God."

D.C. says she tried to gain the confidence to tell the truth and finally did to her adopted father in October 2016. She says she turned to her father in the car on the way home from a church function and said, "I know where Aliayah is." It was soon after that, that she met with investigators and told them her story.

During cross examination, D.C. began sobbing when Lunsford's attorney, Tom Dyer, asked her to reenact how she saw her mother hit Aliayah in the head. She asked the judge for a minute to gain her composure.

Craig Cole, the adopted father of D.C. and her sister since 2012, was the state's second witness.

"They would talk about Aliayah. They would talk about memories of Aliayah," Cole testified. "But the moment we brought up what happened to Aliayah, it was a different story," he told the court through tears. Cole said the girls would shut down when he inquired about what happened to their sister.

Jurors also heard a lengthy police interrogation between investigators and Lunsford shortly after her daughter's disappearance. During the interview, Lunsford adamantly denied any involvement in her disappearance.

The trial could last two weeks and see more than 60 witnesses.

Lunsford's attorney, Tom Dyer, asked jurors to have "an open mind" during the case.

"I feel fairly certain that you'll agree that what Ms. Lunsford did about six years ago does not amount to anything that she's been indicted for in this case," Dyer said.

Lunsford faces life in prison, if convicted.