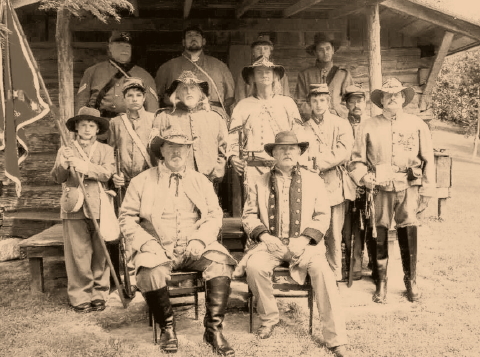 17th VA Calvary Co. F, Civil War re-enactment group
The Daughters of American Pioneers and the 17th VA Calvary have joined forces to help celebrate the 150th Anniversary of the Civil War. Enjoy a tour of the Beauchamp-Newman Museum in Elizabeth today from 9:00 a.m. until 3:00 p.m.
The 17th VA Calvary Co. F, a local Civil War re-enactment group, will have a "living history" display on the museum lawn. At 9:00 a.m. the soldiers will have a working camp set-up and be giving demonstrations of formation drills and weapons handling.
Beginning at 10:00 a.m. you can have your picture taken in the Civil War setting w/props. At noon a chicken barbeque lunch will be served on the museum lawn. The lunch will cost $5 per person (children 5 and under free w/adult lunch.)
The 17th Virginia Cavalry was formed in Salem, VA. The regiment consisted of ten companies. Company F was called the "Night Hawk Rangers" and was made up of men from Wirt, Wood, Roane, and Jackson Counties in WV. Captain James S. A. Crawford, who once rode with the "Moccasin Rangers", was recruited to enlist the men for Company F.
A newspaper article written in 1916 listed "Night Hawk Rangers" still living from this area as C. J. Anderson, Rockport; A. H. Sheppard, Palestine; B. F. Thorn, Palestine; J. H. Bumgarner, Elizabeth; Lewis Full, Leroy; and Ben F. Hartley, Leroy. Three Regimental History Books will be available and Fred Cornell will help people look up their ancestors. The books include the 17th, 19th and 20th all from this area and not only Elizabeth.
The local re-enactment unit was formed over twenty years ago with the goal of bringing history to life for the general public and educating children that the sacrifices of their ancestors would not be forgotten.
They take pride in the high level of authenticity displayed in both individual clothing and equipment, as well as equipment used in camp. If you are interested in getting a historical perspective of the Civil War Period or you can trace your ancestry back to an individual that served, you don't want to miss this event.