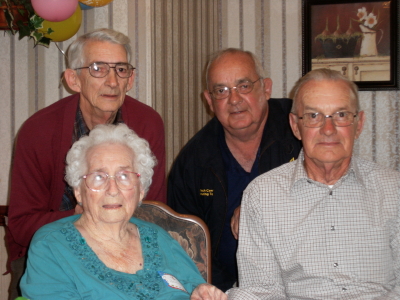 Bernice Shaffer (front) shown here with sons;
(back) Don, James and Paul "Ike" Shaffer
A former Mt. Zion woman almost made it to the century mark.
Bernice Murl Wilmoth Shaffer, 99, passed away December 18, 2013 at Country Lawn Center for Rehabilitation & Nursing Care in Navarre, OH.
She would have been 100 on April 10, 2014.
She was the wife of the late Fred C. Shaffer, who died in 1993.
Growing up on Riffle Run, she is the daughter of the late Francis Marion and Malissa Everson Wilmoth. All seven of her siblings are deceased.
Her living children are Don of Cleveland OH, James of Hartville OH, Paul "Ike" of Mt. Zion and Kathryn of Medina OH.
Funeral services will be held Saturday at 1:00 pm at the Stump Funeral Home in Arnoldsburg with Rev. Vernon Kerns officiating.
Burial will follow in the Mount Zion Cemetery. Friends may call at the funeral home from 6:00-8:00 pm Friday.
Read full obituary Bernice Murl Shaffer