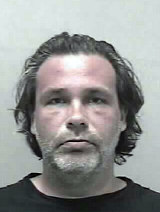 A Roane County man is in Central Regional Jail after Roane authorities arrested him for a threat of terrorist acts, a felony.

Shayne A. Workman, 34 (left) has bond posted at $150,000.

Roane authorities are saying Workman posted a threat on Facebook that indicated he was going to grab a gun and clear a classroom.

Roane deputies were concerned with a post on August 26, part of which said he indicated "grabbing a gun and clearing a classroom, and would leave me alive and free to continue my work."

Workman's wife filed a domestic petition the next day after she saw the post, police said.

Police are saying they do not know why Workman posted the threat, saying he has no criminal history.

In Ritchie County, Andrew Michael Jewell, 27, was charged with the intimidation of a witness, and has been incarcerated in North Central Regional Jail, with bond yet to be set.

Another Ritchie resident, Roy Lee Jewell, 63, has been charged with making a false report to an officer and obstructing an officer. He is in North Central Regional Jail.

Josh Allan Haught, 19, has been charged by Ritchie authorities for underage consumption, disorderly conduct and obstructing. He is in North Central Regional Jail.