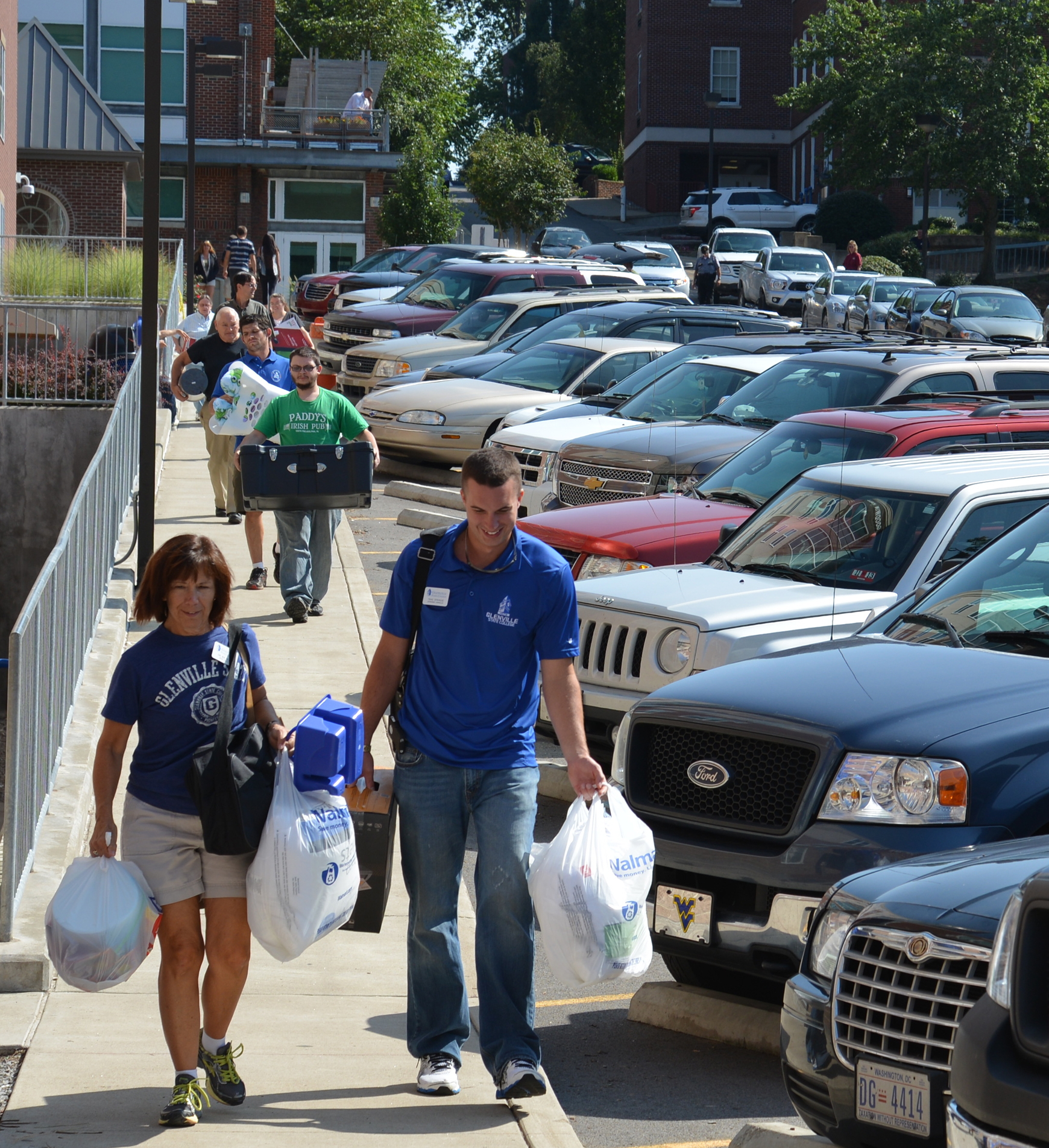 Assistant Professor of Social Work Dr. Ida Mills and
Admissions Counselor Trae Sprague lead the way as they help
move a new student into Goodwin Hall on Move-In Day 2013 at GSC
GLENVILLE, WV - Approximately 300 freshmen have arrived on campus at Glenville State College for the 2013 fall term. The new Pioneers spent the weekend attending orientation and social events to transition into student life at GSC.
Glenville State College's class of 2017 is made up of students from West Virginia, 11 other states, and the District of Columbia.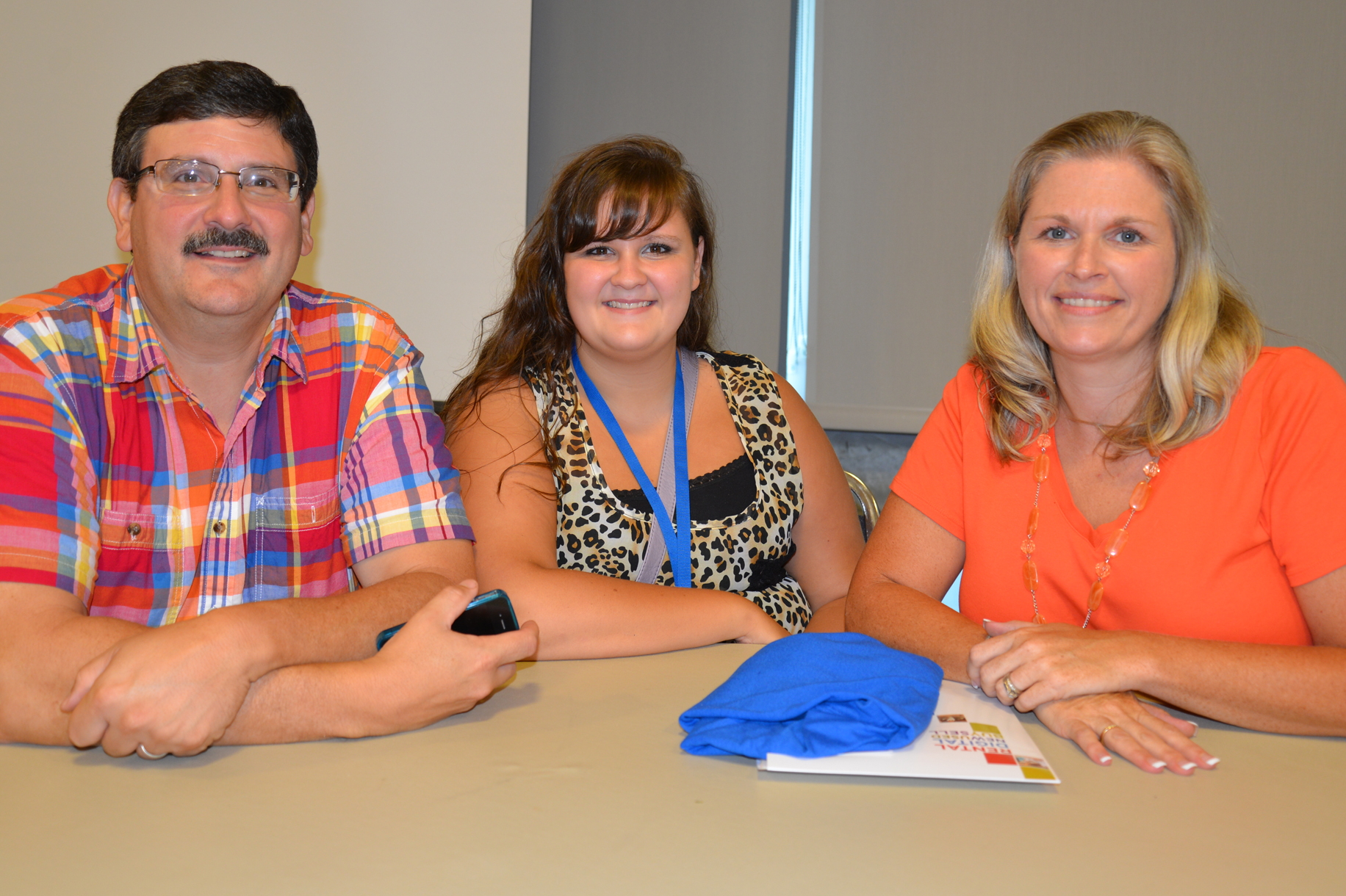 Brett, Katie, and Kara Stover are all smiles
during Move-In Day 2013 at Glenville State College
Lauren (Katie) Stover is one of those incoming freshmen. Katie is from Clay (Clay County), West Virginia and is majoring in English Education (5-adult). She'll be combining her father's alma mater with her mother's profession. Katie's dad, Brett, graduated from GSC in 1986 and her mother, Kara, currently works as a seventh grade English teacher at Clay County Middle School.
"Glenville reminds me of home. That's one of the things I like most about it here," said Katie. Her mom was also pleasantly surprised at the moving helpers that were awaiting them on move-in morning. "We parked the car, and four different people came up and asked, 'What can we help you carry?'," said Kara. "I expected we would have to make eight trips, but with their help we got it done in one."
Assisting with new student move-in is a long-standing faculty and staff tradition at Glenville State College. "Move-In Day can be overwhelming for new students and their families. We all enjoy this opportunity to be able to help out our Pioneers in any way that we can; more importantly, we make our faces known and get to know some of the class of 2017," said GSC Admissions Counselor Trae Sprague.
Parents and families of the new Pioneers also had an opportunity to meet President and Mrs. Barr. The Barrs held a session for parents to inform them about what Glenville State College offers their students and their unique point-of-view as the presidential couple. "It is so satisfying to see the incoming students as freshmen and then as seniors when they graduate. They grow and develop so much in the time they spend with us at GSC," said Betsy Barr.
On Sunday, August 18th a Pioneer Picnic & Community Fair was held that allowed community businesses, churches, and organizations to set up displays to introduce and promote themselves to the new students. The event was also a great opportunity for the new Pioneers to learn what the community has to offer them during their experience at Glenville State College.
Upperclassmen returned to campus on Sunday, and fall semester classes started at 8:00 a.m. on Monday, August 19th.
Students may still register at GSC until Friday, August 23rd. For more information, contact the GSC Office of Admissions at admissions@glenville.edu or call (304) 462-6130 or toll free at (800) 924-2010.