VOTE OFTEN TO SAVE DRIVE-IN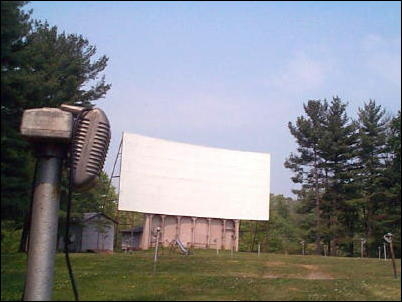 The end of 35mm film distribution by the end of the year could shut down Mt. Zion Drive-In due to the costly switch to digital projection.
Project Drive-In, a national effort sponsored by Honda to save as many drive-ins as possible, is raising community awareness across the country and giving people easy ways to get involved and ensure that this historic part of American cinema and car culture lives on.
At projectdrivein.com people can vote to determine which five drive-in theatres will receive a new digital projector from Honda. The site also encourages people to share Project Drive-In with family and friends via social media, email or texts, pledge to see one movie at their local drive-in and contribute to the national save-the-drive-in fund to keep more drive-ins in business.
"We need everyone to vote and show support for our drive in, otherwise our screen will go dark. We have provided a family destination for over 63 years 3 generations of memories have been made here. It would be a shame not to be able to continue the tradition for future generations. Thanks to Honda, our community and patrons have the opportunity to show their support by texting in Vote8 to 444999, or voting online", said Bonnie Sands, Manager at Mt Zion Drive-In.
Extended voting will take place through September 21 on projectdrivein.com Through crowdfunding and negotiations with projector companies, the project is happy to announce that four more digital projectors will be awarded to the 6th, 7th, 8th and 9th place drive-ins.
The vote tally has not been reset on projectdrivein.com. Participating drive-ins will retain all existing votes from the August 9 through September 9 voting period. So keep your campaigns going because all of your previously accumulated votes will count in this next round. Voting has now resumed for the next six days. Voting ends at 8:59:59 PDT on September 21, 2013. Four more drive-ins will be saved!
"Cars and drive-in theatres go hand in hand, and it's our mission to save this slice of Americana that holds such nostalgia for so many of us," said Alicia Jones, Manager of Honda & Acura Social Marketing American Honda Motor Co., Inc., at American Honda Motor Co., Inc. "We're committed to helping drive-in theatres remain viable and flourish with the move to digital projection."
See related stories MT. ZION DRIVE-IN CHALLENGED AFTER 60 YEAR RUN - Theater Will Open 2013, Technology Causing "The Last Picture Show" In Rural USA
MT. ZION DRIVE-IN OPENS FOR 60TH SEASON - Sultry Summer Nights, Parents Got "Passion Pit" Warning