A 30-year-old Looneyville, Roane County woman is dead after a DUI driver plowed his truck into a residence about 2:30 a.m. Thursday morning.

Kelly Casto, 30, was killed and her boyfriend, William Ralph Cottrell, 38, suffered major injuries after Chaz Allen Simmons, 23, crashed into a residence along State 36 near the Looneyville Post Office.

The couple were sleeping in the residence.

Cottrell is in serious condition in a hospital.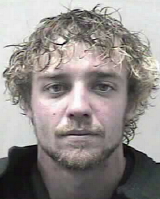 Sergeant Bo Williams said Simmons (pictured left) told deputies he had seven to eight beers at a party in Calhoun County and he doesn't remember anything, saying he was on State Rt. 36 driving to a job in Clarksburg.
William Cottrell's brother, Larry, who lives in an adjacent house, came outside after hearing the crash and saw Simmons' truck sticking out of the building, according to the criminal complaint.
Simmons allegedly told Cottrell that he had been drinking and lost control of his truck and then got out of the truck and helped Cottrell use a jack to lift the truck off William Cottrell and Casto, who were pinned underneath, according to the complaint.
The report indicates Simmons allegedly got back in his truck and tried to drive away.
Simmons was taken to a hospital, where he was treated and released.
A Roane magistrate set his bond at $100,000 cash. He is in Central Regional Jail.