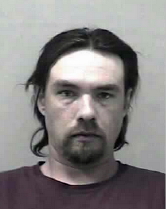 A Calhoun man is in Central Regional Jail on charges of wanton endangerment involving a firearm and child neglect creating risk of injury.

Charles Ray Metz, 35, Grantsville, was arrested by the Grantsville Police Department Monday.

According to a criminal complaint filed by Grantsville Police Chief Andy Walker, Metz was involved with an incident earlier this year where he allegedly held a gun to the head of his wife Kelli Metz during a fight, after which Metz left the household with his son.

The report says Metz's wife dropped an earlier domestic violence complaint, but did later report the incident to Children's Protective Services.

The arrest complaint says Metz held a gun to his wife's head and threatened to "blow her brains out," while she was holding the child on a couch, and she was attempting to leave the residence on Hathaway Street.

Metz is being held on $50,000 bond.

A Calhoun jury in 2012 found Metz not guilty of two felony counts and the jury was hung on a third count of destruction of property.

The jury found Metz not guilty on a charge of wanton endangerment with a firearm and conspiracy to commit a felony.

The indictment was related to an incident on Nobe Road in 2010 that allegedly involved the throwing of an inactive hand grenade into a yard and allegedly shooting a gun from a car. Four days later the house was destroyed by arson.

The incidents involved hooded figures.