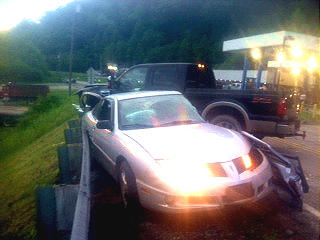 An occupant of a car in a car-truck collision had to be extracted from a collision on US 33/119 Arnoldsburg at Speedy Mart.
The male driver was injured and life-flighted by chopper to a medical center, his injuries are unknown.
The collision reportedly happened when one of the vehicles was exiting the convenience store parking lot.
The Arnoldsburg VFD and Minnie Hamilton ambulances from the Arnoldsburg and Grantsville stations responded to the scene at 7:48 p.m.
The MHHS Arnoldsburg Station was just a few feet from the accident.
The Arnoldsburg VFD used extraction equipment to remove the injured man.
Reports indicate that other individuals in the collision did not require medical treatment.
State Police are investigating.